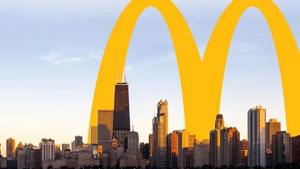 Last week McDonald's CEO Chris Kempczinski delivered a talk blasting crime in Chicago and saying the fast-food giant's commitment to the city where it was born is "not open-ended, is not unconditional," he said at the Economic Club of Chicago. "There's a general sense our city is in crisis." Reaction has been varied and swift.
On Wednesday, Chicago Mayor Lori Lightfoot criticized the CEO's comments, and pushed back on his urging to "face facts" about corporate exits such as Caterpillar, Boeing and Citadel. "What would have been helpful is for the McDonald's CEO to educate himself before he spoke," Lightfoot said at a news conference.
She called the departures "disappointing" and "not to be ignored," while also claiming that 112 companies moved or opened their doors in Chicago over the last 18 months.
On Tuesday, McDonald's placed a full-page ad in the Chicago Tribune, showing the Golden Arches rising from the West Loop of downtown Chicago, where it moved from the suburbs in 2018, and affirming the fast-food giant's commitment to the city. Some call Chicago the second city, the ad said, but to McDonald's it will always be first, a sentiment Kempczinski also expressed in his remarks.
Read here for more about McDonald's chief executive's comments on crime.
Last Friday, the Chicago Tribune editorial board backed the CEO's remarks, saying "when the impressive new CEO of McDonald's," appointed in 2019, "has pointed things to say about the current state of Chicago, it merits attention."
The board compared the McD's chief's comments to Ken Griffin's, the founder of Citadel and an outspoken critic of the city who is pulling out his company to a new headquarters in Miami. Kempczinski's comments were "a spicy chicken sandwich to Ken Griffin's Big Mac," it said.
Kempczinski "did not have to go to this place at what is typically a glad-handing lunch," which he "surely knew was likely to be the case," the Chicago Tribune pointed out about the Economic Club talk. "This wasn't just a warning of a city in crisis—it was a warning made in public that was willing to risk making things worse in the hope of making them better."
Last Thursday, the Wall Street Journal "amplified" the Economic Club speech in a news story, as the Chicago Tribune put it, and followed it with an editorial on one of the board's favorite topics—crime in Democratic-led large cities.
"Calling Mayor Lori Lightfoot. When residents no longer feel safe at a major restaurant chain and a CEO issues a public plea, social order is breaking down," the editorial said.
"The comments won't surprise residents who have watched their city on Lake Michigan slide into a mess of public disorder. Tent cities sprawl across lakeside parks. Crime that was once confined to certain neighborhoods now threatens the downtown business district," the editorial continued.
Meanwhile, the Twitterverse weighed in, according to mashed.com, with comments such as: "Is he going to offer up any solutions for real (him or some others) or are they just going to keep saying the same crap that a bunch of other people say without offering solutions?" Another user wrote: "They have no concerns about hyper-segregated & concentrated poverty in #Chicago or the low wages poor people earn working at @McDonaldsCorp they just want to protect downtown & rich Chicago from violence!"
Aside from the McDonald's ad, the company hasn't issued any statements about its CEO's speech and the aftermath.