By TheShadow
The AXS 1.25X NVDA Bear Daily ETF underwent a 1-5 reverse stock split on or about August 14.
The Champlain Strategic Focus Fund is in registration. The fund invests primarily in securities of mid- to large-capitalization companies. Annual fund expenses will be 1.10% for the advisor share class and 0.85% for the institutional share class. The fund will utilize several portfolio managers with Champlain Investment Partners, LLC.
The GMO U.S. Quality ETF is in registration.  Expenses have not been stated. The investment strategy will be an actively managed exchange-traded fund that seeks to achieve its investment objective by investing primarily in equities of U.S. companies, which the adviser believes to be of high quality.  The investment team will consist of Thomas Hancock, Ty Cobb, and Anthony Hene.
Poster ET91 posted that the Osterweis' Sustainable Credit and Short Duration Funds were referenced in its July 19, 2023 shareholder newsletter and that while both funds' performance was not up to standards, there were some reasons behind the lackluster performance.  The markdown was due to two holdings:
The markdown in our portfolio this quarter can be almost entirely explained by two holdings. Both found themselves in truly unexpected restructuring negotiations, sparked initially by a lack of information and one or two indiscriminate sellers. However, that perception and the resulting lower prices opened the door for opportunistic investors to exploit the uncertainty. While we are limited in what we can discuss at the moment, we are actively engaged in both situations to make sure we get as much value back from these positions as we can under the circumstances… 
The shareholder letter further states,
…aside from these two positions, nearly all other positions contributed positively to performance, and for those few that had negative contribution, the impact was tiny…

We have adjusted and reaffirmed exposures in their other holdings. We did this with a singular focus of making sure our risk profile is consistent with our absolute return mindset… 
We will wait to see how their changes affect the next quarter results.
Changes at the top for TCW Fixed Income: Laird Landmann is retiring at the end of 2023, and Stephen Kane will depart at the end of 2024. Messrs. Landmann and Kane bear the titles "founding partner and portfolio manager" with regard to several MetWest fixed-income funds. Mr. Landmann appears responsible for $105 billion in assets, while Mr. Kane lopes with about $90 billion. That's over half of the firm's total assets. The TCW SAI reports that they are responsible for 22 and 19 funds, respectively. The larger funds directly affected are Metropolitan West Total Return Bond, TCW Core Fixed Income, Metropolitan West Low Duration Bond, and Metropolitan West Unconstrained Bond. Morningstar is stroking its chin, thoughtfully, about the fund's Analyst Rating, especially in light of several other senior leaders in the past couple of years.
The Vanguard International Dividend Growth Fund is in registration. The fund will have an expense ratio of 0.54% and will be managed by Peter Fisher, who co-manages the Vanguard Dividend Growth Fund with Don Kilbride. The fund is expected to be launched in late 2023.
SMALL WINS FOR INVESTORS
None noted.
Old Wine, New Bottles
Boston hedge fund Clough Capital Partners, a Boston hedge fund company, has acquired Changebridge Capital, an ETF firm founded by a former Clough manager in 2020. With the acquisition comes manager/founder Vince Lorusso and his Changebridge Select Equity and Changebridge Long/Short Equity ETFs. No sign of a name change.
The $468 million JPMorgan International Value Fund has been renamed the JPMorgan Developed International Value Fund.
The Vert Global Sustainable Real Estate Fund will be reorganized into an exchange-traded fund, which is expected to occur in the fourth quarter of 2023. The adviser believes it will provide numerous benefits to shareholders, including lower expenses, enhanced investor and financial intermediary access as an ETF, and greater tax efficiency. 
Closings (and related inconveniences)
The Blackrock Capital Appreciation Fund will be reorganized into the BlackRock Large Cap Growth Focus Fund, which will subsequently change its name to the BlackRock Large Cap Growth Equity Fund.  The reorganization is expected to occur during the fourth quarter of 2023.
The Brandes U.S. Value Fund will be liquidated on or about September 28.
City National Rochdale California Tax Exempt Bond Fund will be liquidated on or about October 16.
DoubleLine Funds will liquidate its Multi-Asset Growth and Real Estate and Income Funds on or about October 31.
The Janus Henderson Net Zero Transition Resources ETF will be liquidated on or about October 26.
The Janus Henderson Sustainable Multi-Asset Allocation Fund will be liquidated on or about October 19.
JPMorgan Asset Management plans to liquidate two ETFs and one mutual fund later this year.  JPMorgan ActiveBuilders US Large Cap Equity ETF goes first on September 21, followed by JPMorgan ActiveBuilders International Equity ETF departing on October 18. JPMorgan also plans to liquidate the JPMorgan Opportunistic Equity Long/Short fund. Assets across the board were too low to maintain the advisor's interest.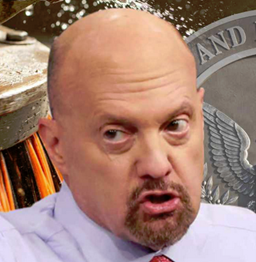 The Long Cramer Tracker ETF will be liquidated on or about September 21. That's just after its six-month anniversary. The ETF attempted to create a portfolio of Jim "The Screamer" Cramer's daily stock picks. According to folks on the discussion board tracking the mess, the adviser now claims that the ETF wasn't really an ETF; it was just a way to get Jim to engage with them. Frankly, it would have been cheaper to buy him a drink and tell him that his eyes are beautiful.
Meanwhile, the $3 million sibling ETF, which attempts to short Cramer's picks (SJIM), stumbles along with neither assets, returns (in the red since the March '23 launch), nor rationale for continuing.
NightShares 500 1x/1.5x ETF will be liquidated on or about September 8.
The Northern Engage360 Fund will be liquidated on or about October 27. Engage360 was an intriguing idea: the best way to have a socially responsible fund is to hire firms representing diverse communities, that is, renowned professional investors who were women or people of color. Nominally, two Northern Trust employees, who had no personal investment in the fund, were responsible for overseeing five sub-advisors: Boston Common Asset Management, Mar Vista Investment Partners, Ariel Investments, Earnest Partners, and Aristotle Capital Management. Returns trailed the peer group by 0.9% annually, and The Shadow notes on our discussion board that there has been frequent sub-adviser turnover. Assets remained small, and Northern pulled the plug.
The Pear Tree Axiom Emerging Markets World Equity Fund will be reorganized into the Pear Tree Polaris International Opportunities Fund. Completion of the reorganization is subject to receipt of approval by shareholders of the target fund.
Ziegler FAMCO Hedged Equity Fund will be reorganized into the DCM/INNOVA High Equity Income Innovation Fund. The reorganization is expected to occur on or about the close of September 29.