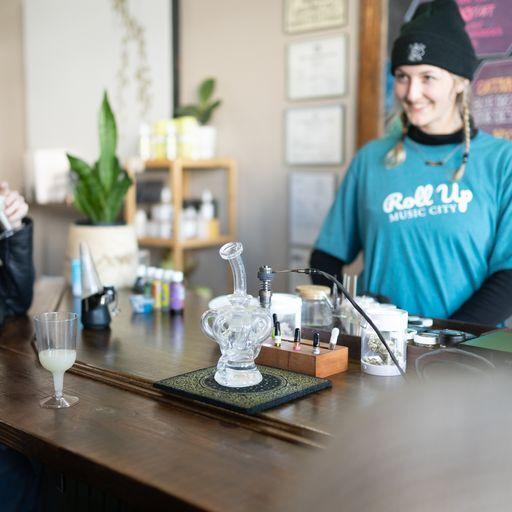 Holistic Connection Founder Mike Soloman compares his cannabis retail shop and bar experience to that of a wine tasting, where the servers are knowledgeable and can help an experienced or novice guest find something they'd enjoy.
"It's kind of like a farm-to-table concept," Soloman said. "You eat one of our brownies—the cannabis or the hemp oil that's in there was a plant less than a month ago. … It's a really cool experience."
He got the idea for a cannabis bar and shop after a few trips to Amsterdam, where marijuana is decriminalized for personal use and available in coffee shops.
"Over there, you watch the soccer game and you consume cannabis, and you can take some home," he said of his experience. "It's kind of more like a neighborhood kind of bar type feel than a dispensary."
That's what he wanted to recreate in Tennessee. In 2018, The Holistic Connection was born, initially starting out as a grower and wholesaler, before venturing into retail. Today, the franchise has 15 stores open and more in the works.
Holistic Connection sells THC capsules, tinctures, edibles, vaporizers and other products. Stores feature a "dab bar" option too, where "budtenders" serve flower and dabs to customers, giving guests the option to sample different products.
The brand's biggest sellers are edibles and infused drinks—think of a margarita with THC instead of tequila.
Holistic Connection has its first restaurant and cannabis bar combo open in Nashville, called Buds & Brews. Sauces and a few desserts are infused with THC. Soloman said it's the first cannabis restaurant in the state. It opened a few months ago, "and it's getting a lot of praise," Soloman said. He's also franchising the concept.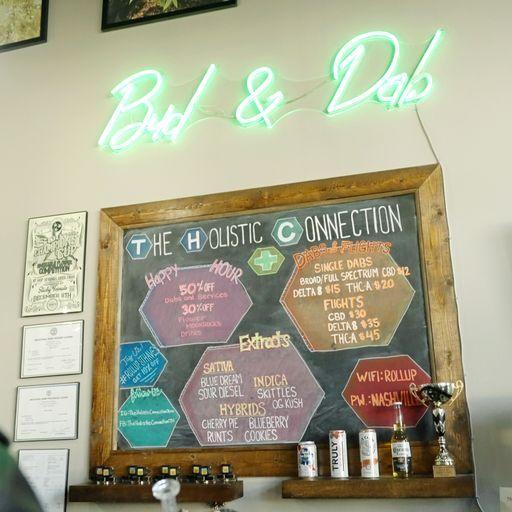 Cannabis franchises are becoming more common. Arizona-based Item 9 Labs bought Canadian cannabis retailer Sessions Cannabis earlier this year. Unity Rd. and Curio Wellness are working to open more locations nationwide.
New Frontier Data projects U.S. cannabis sales could hit $57 billion by 2030, an amount that could go higher if more states legalize the drug.
To be federally legal, Holistic Connection's hemp-derived THC is extracted and then added to products in a concentrated form, within the legal limits—less than 0.3 percent Delta 9 THC by volume.
The biggest challenge Soloman has faced while expanding the brand is people not understanding the legality of his product.
"As long as you follow certain rules, you can make legal THC products," he said. "When you say words like cannabis and THC, people instantly go to marijuana. They don't think of those words describing" something that's legal in the country.
In Tennessee, Holistic Connection's franchisees don't need a specific license to sell these products. Soloman has a license to grow and manufacture cannabis.
"Once we make a legal product, there isn't an additional license or anything like that to start one of these locations," he said.
The Holistic Connection is looking to expand the franchise concept in Tennessee, Alabama, Mississippi, Georgia, Florida, South Carolina and North Carolina.