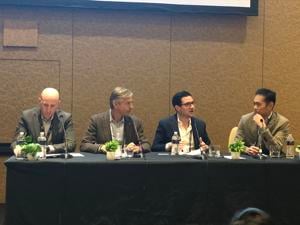 Analyzing data has always been crucial for restaurants to grow, and with ever-improving digital technology, there are multiple ways brands can leverage this key information.
Industry professionals weighed in on how to harness that data Tuesday during a panel at the Restaurant Finance & Development Conference. Moderated by Chris Banse of the professional services firm RSM US, the panel featured Steven Cirulis, chief financial officer and senior vice president at Potbelly, and Jordan Garay, a managing director at Garnett Station Partners.
Additionally, Joshua Benton, also of RSM, was present to give input on the subject. In his comments, Benton talked about how a lack data management can create issues for restaurants looking to attract more guests.
"A lot of times the challenges I've encountered is QSR folks struggling to know who their best customers are," Benton said. "When you don't have the data infrastructure, you just don't know."
A critical piece to a restaurant's data infrastructure is a loyalty program, which Cirulis said should be the center piece of a brand's marketing efforts.
"When I joined the company, the amount of money that was spent on marketing was one half of 1 percent of sales," Cirulis said. "In the business, usually it's 4 to 5 percent of sales. If you underinvest for as many years as we did, you understand that there's some catch up to be made there. We felt that leaning into the digital space in particular, with our perks program, has been a winning play. We're up to about 3 percent of sales now."
"With loyalty programs, we use them to check the average retention and frequency of the customer," Garay said. "Once they visit the restaurant, we really push on the loyalty engine because we know how powerful that is. But keep in mind, at the same time, even the best loyalty programs only capture 40 to 50 percent of the audiences. So, we focus on both sides of the pie, drawing a guest into the restaurant and hitting them with loyalty to personalize the marketing over time making it more enticing to repeat."
To help get a loyalty program started, Benton said it begins with helping a restaurant discover who their main customers are and understand the value drivers that will keep them coming back.
"You figure out how to wrap a loyalty program around that," Benton said. "It's challenging because it does require you to get in front of your customers, know who they are, where they are and what drives them. It's not just quantitative data, It's qualitative data. It's having folks like your linemen talk to your customers. That's how you build an effective loyalty program that you can work with your analytics."
"Customer data is our currency," Garay said. "It is the most valuable thing that we have as we try to nurture our customers along the journey by understanding, tracking and influencing behavior. Seeing how long they visit, when they visit, what they're buying. Using that data, we exclusively try to push personalized promotions toward that guest."
Cirulis also brought up how the Potbelly brand is incorporating data in its unit growth plans.
"We've had an endeavor to find out what the capacity is for Potbelly in the U.S.," Cirulis said. "That required us to partner with a third party to look at all the things you'd expect. We think there's about 2,000 Potbelly's in the future over the next decade. But in order to get to that number, we've had to use analytics and take into account traffic patterns, competitive concepts in the area, demographics and market growth.
"We've also been using that data to see where grocery stores and other shops are going to be put in place," Cirulis said. "Incorporating things like that in the analytic platform helps you understand what an area is going to look like five to 10 years down the road. So, it is really data first in terms of understanding where the opportunities are coming for new units."