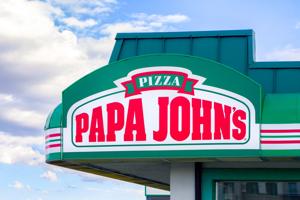 The Equal Employment Opportunity Commission is suing Papa Johns for alleged disability discrimination.
The commission announced the lawsuit March 15, which claims the pizza franchisor illegally fired a blind man who requested to keep his service dog on site, "away from both customers and food preparation activities during his shifts." The EEOC claims the termination violates the Americans with Disabilities Act.
According to the lawsuit, Michael Barnes, who is legally blind, applied for a job at Papa Johns in Athens, Georgia, in February 2020 after hearing that the company hires people who have vision impairments.
He reportedly told the store manager about his reliance on his guide dog, Indie, who he requires to help him commute. He requested accommodation to keep the dog on site, but he doesn't need Indie to be with him during his shift, according to the lawsuit.
The manager encouraged Barnes to apply, and reportedly told him his disability wouldn't be a problem, according to the suit. They allegedly discussed options for keeping the dog on site during the application process, in which the manager read aloud some of the application questions to help Barnes.
He was officially hired at the end of February 2020, just before the company issued a hiring freeze in response to the pandemic. The manager told Barnes he could start work once business began picking up again, and contacted him in May to reapply for the position.
The company hired Barnes, but fired him before he worked his first shift. Papa Johns reportedly denied the request in June to keep Indie on the premises due to unspecified health concerns, according to the lawsuit.
"Papa Johns is committed to maintaining a diverse and inclusive culture for all of our team members, including those with disabilities. We do not discriminate against any team member or applicant on the basis of any characteristic protected by statute or local law," a Papa Johns spokesperson wrote in a statement to Franchise Times.
They continued, "In compliance with the Americans with Disability Act (ADA), we make reasonable accommodations for the known physical or mental limitations of an otherwise qualified individual with a disability who is a team member or an applicant, unless undue hardship would result. This policy governs all aspects of employment, including recruitment, selection, job assignment, compensation, corrective action, termination and access to benefits and training."
The EEOC does not typically comment on pending litigation.
The ADA makes it illegal to terminate an employee on the basis of disability, and Title I allows employees to make reasonable request to accommodate their disabilities.
The commission filed the lawsuit in district court in Georgia, and is seeking back pay, front pay, punitive damages and compensatory damages, in addition to "injunctive relief to prevent future discrimination," according to the release.
Under Title I of the ADA, service dogs and changing a company's policy on animals are a reasonable accommodation for those in need.
The commission has previously filed similar lawsuits.
The EEOC sued craft supplies retailer Hobby Lobby last year for allegedly not allowing a cashier to use a service dog during her shift, and fired her when she couldn't work without the dog present, according to the commission. The location in question allows customers to bring in service dogs. The case is ongoing.
Transport America, a Minnesota-based trucking company, paid $22,500 in 2019 for allegedly requiring an employee to pay a fee for keeping a service dog in his truck, despite needing the dog to accommodate his anxiety.
A Papa Johns franchisee paid $125,000 in 2017 for allegedly discriminating against an employee who had Down syndrome. The employee, Scott Bonn, had a job coach to help him during his shifts for about five months before he was fired after an operating partner witnessed the job coach assisting Bonn. The operating partner reportedly told management to fire Bonn, according to the lawsuit.