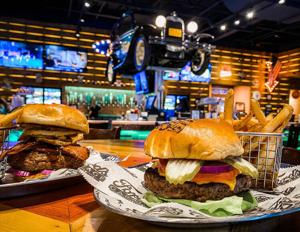 Ford's Garage will be bringing its iconic branding and unique dining experience to new markets in the next several months
The company was founded a decade ago by Mike McGuigan and Daniel Kearns in Fort Myers, Florida, less than a mile away from Henry Ford's winter home. According to Ford's Garage President Steve Sheldon, the two founders were already fans of Ford cars and had a vision of a restaurant with the aesthetic of a 1930s gas station.
Since then, the brand has expanded to 17 locations, all of them operated by franchisees, and Ford's Garage has plans for eight to 10 new restaurants nationwide by the end of the year. In the following years, the intention is to open 10 to 15 new locations annually.
States targeted for franchise expansion include Florida, Kentucky, Michigan, New Jersey, New York, Ohio and Texas. Before the franchise could rev its expansion engine, though, it had to build a partnership with the automaker it's named after.
"Ford executives were down there and visited the restaurant and they liked what they saw," Sheldon said. "The founders then received a phone call soon after from the licensing department.
"They said, 'you guys are doing something that you don't have the authorization to do. But we like your brand, and what you're doing, so let's set up a licensing agreement with you guys,'" said Sheldon.
After negotiating, a licensing agreement was reached in 2016, allowing the restaurant to use the Ford logo. Additionally, the company has access to historical photos and actual Model Ts.
"It's an iconic brand that has a great reputation in the marketplace," Sheldon said. "The company itself is very protective of the name and its assets, whether it's retail or a restaurant. As we open up new restaurants, the Ford name has been very beneficial. People recognize the name."
Around the same time, Ford's Garage entered the world of franchising.
"The management team we've brought in to franchise the company has a lot of restaurant experience over many years," Sheldon said. "So, they'll have the expertise of the company to help in site selection, building design, opening and training."
Including the franchise fee, the total investment for a Ford's Garage ranges from $1.46 million to $6.35 million. Most locations are 8,900 square feet with about 250 seats.
Like the cars built by the motor company, the burgers at Ford's Garage have the Ford logo branded on each bun. In addition to its focus on prime burgers, Ford's Garage also has an emphasis on craft beer, with a wide selection from microbreweries.
The latest openings for Ford's Garage will happen in May, with restaurants set to launch in Cincinnati, Ohio, Dallas, Texas and Palm Beach, Florida. The restaurant in Dallas will be opened by franchisee Brian Judd.
Judd, who operates out of Cape Coral, Florida, said he intends to open six to seven restaurants in the Dallas-Fort Worth Area, and another six in the Houston region.
"It's a great market and there are a lot of great people in Texas," Judd said. "We also feel there's nothing like this concept in Texas, so we feel it will be well received by the consumers."
Judd said he was hooked on the idea when he visited the company's second Florida restaurant. In addition to the mechanic-inspired uniforms and memorabilia featured, the auto-themed décor also drew Judd to the brand.
"There are so many great elements to this thing," Judd said. "There are old gas pumps, air pumps, and the napkin holder is a hose clamp you'd find on a car. It's just a great vibe for a restaurant."
Farther north, there are plans to open a second Ford's Garage in Michigan. The first was built in Dearborn, right on the property of the Ford Motor Company.
"They assisted in the building of the restaurant," said Sheldon. "It's doing great, and we just signed a lease to open our second restaurant up there in the first quarter of 2023."
According to Sheldon, the average unit volume of a Ford's Garage is about $6 million.