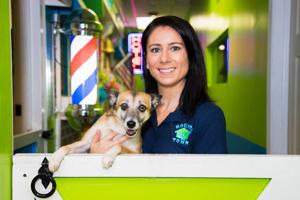 There were three Hounds Town USA locations open in Long Island when Jackie Bondanza joined in October 2013. Now, the doggie daycare concept just opened its 20th location and is poised for growth with 100 territories signed. 
Bondanza noted the brand's resiliency through The Great Recession, attributing their success to their simple business model and all-inclusive pricing model. "We've always offered affordable, straightforward pricing pet care. We never made it complicated," Bondanza said. "We're really marketing to the average, hardworking American."
Hounds Town also managed to grow during the pandemic and is slated to open 40 to 45 stores in 2022, with the goal of signing on another 30 to 40 franchisees. Bondanza was named CEO in May this year after the brand hired Rob Flanagan as chief operating officer, who Bondanza met at the International Franchise Association Convention four years ago.
"I knew I needed someone like Rob on our team to really bring the franchising knowledge…we needed a more experienced operator who could bring structure with him or her, and that was Rob," Bondanza said. Since then, "things have changed, processes have been scaled, systems have been put in place to support the tremendous growth we're expected to see."
The brand's growth has not been tied to geography, "against some peoples' recommendations," Bondanza added.
"We chose instead to focus on the quality of the franchisee and assess how well they fit in our culture…because of that, stores are opening all over the country, so we'll back into the regional development piece," she said. "For us, it just made the most sense at the time, and we didn't want to turn down honestly a really well-qualified franchisee who wanted to develop in the Denver market just because it wasn't on our growth plan for that year."
That strategy has made training trickier and created some logistical challenges, but Hounds Town overcame that during COVID-19 by partnering with a high-performing franchisee in Orlando to create a regional training center. The brand also began offering discovery days there and a second strategic training center will launch in Denver, Colorado next year in partnership with an owner.
"Franchisees love that, to be chosen and be partners with Hounds Town in that capacity," Bondanza said.
The next challenge Bondanza and Gould plan to overcome is keeping their "anti-corporate" culture strong as they grow. They purposefully call their headquarters the "county HQ" instead of corporate and try to be fun and casual, which Bondanza noted many franchisees are drawn to.
"It will be a challenge for me as CEO over the coming years, scaling the brand and business model but preserving the culture. That is something that is my main focus," she added. "…There's a difference between becoming corporate and building a scalable business."
From customer to CEO
When Bondanza moved to Long Island, New York and began commuting into New York City each morning via the 6:38 a.m. train, she quickly realized she didn't want to leave her two dogs alone until 7 p.m. when she returned. She was working as a book editor at the time for publishers such as Abrams Books, HarperCollins and Barnes & Noble Publishing when she stumbled across Hounds Town.
"I started using them as a customer and very soon after I first walked into the store, I realized how different the brand was and how much potential it had in the pet care space," Bondanza said.
She happened to meet Michael Gould in the lobby, who helped create the New York Police Department's K-9 unit and became the department's canine training officer before founding Hounds Town in 2000. Little did Bondanza know she would one day become both business and life partners with Gould.
After six months as a customer, Bondanza left her career as a book editor and began helping Gould craft a franchise plan as vice president of franchise operations. "I did not know one thing about franchising" at the time," Bondanza admitted. "I really used my journalism skills and my research skills and I started with that, just researching franchising to get an understanding of what it was."
Bondanza and Gould got married in 2015 and own three dogs—a pit bull Shepard mix named Maggie, a potcake from Puerto Rico named Canito and Rosie, a mixed dog who is paralyzed and uses a wheelchair.
"Hounds town has changed my life so drastically, both personally and professionally, from the moment I pulled into the parking lot with my two dogs almost 10 years ago," Bondanza said.