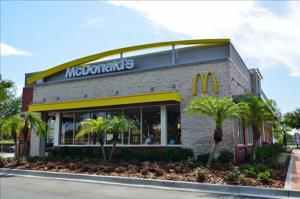 No. 1 McDonald's posted $112.5 billion in system sales in 2021, up an impressive 20.6 percent from the year before, and retained first place on the newly released Franchise Times Top 500, which ranks the largest U.S.-based franchises by global systemwide sales. It's increase of more than $19 billion last year marked the best dollar amount sales growth across the Top 500 franchises. The Golden Arches has 40,031 locations, and average unit volumes are $3.3 million.
Check out the rest of the Top 10 below, plus see how all 500 franchises rank.
No. 2 7-Eleven posted $95.1 billion in sales in 2021, up 3.6 percent compared to the year before, from 78,413 locations worldwide. AUVs are $1.6 million. The convenience store giant made a push into QSR last year with plans for 150 restaurants.
No. 3 KFC posted $31.36 billion in system sales in 2021, up a notable 19.3 percent, from 26,934 locations. The fried chicken brand rebounded after sales dropped 5.8 percent in 2020 and it even outdid its 2019 performance of $27.9 billion.
No. 4 Burger King moved up a spot on the ranking after it took a 12.6 percent hit to sales in 2020. The second-largest QSR burger chain on the Top 500 posted $23.4 billion in sales in 2021, up 17 percent, from 19,247 units. 
No. 5 Ace Hardware posted $22.38 billion in system sales in 2021, up 8.7 percent, from 5,583 locations. That increase comes despite the 1.5 percent drop in units; it had 5,669 locations in 2020.
No. 6 Domino's turned in another year of double-digit percentage sales growth as it posted $17.8 billion in system sales, up 10.4 percent, from 18,848 locations. 
No. 7 Subway finished 2021 with much-needed turnaround as it posted an estimated $17.5 billion in system sales, up 27.7 percent, from 37,147 locations. That's after its sales plummeted more than $2 billion in 2020. Subway also moved up two spots on the ranking this year.
No. 8 Chick-fil-A is close to overtaking Subway but with a fraction of the units. It generated an estimated $17.1 billion in sales in 2021, up 21.2 percent, from 2,709 locations. Average unit volumes for freestanding restaurants not inside mall locations reached a record $8.1 million per store in 2021, an increase of 14.7 percent over 2020.
No. 9 Re/Max breaks into the Top 10 as it posted $16.1 billion in system sales, up an astounding 40.6 percent, from 8,964 locations. It's the highest-ranking real estate brand on the list.
No. 10 Circle K posted $15.2 billion in sales in 2021, up 0.3 percent from the prior year, from 11,154 units. The convenience store chain slips three spots on the ranking.