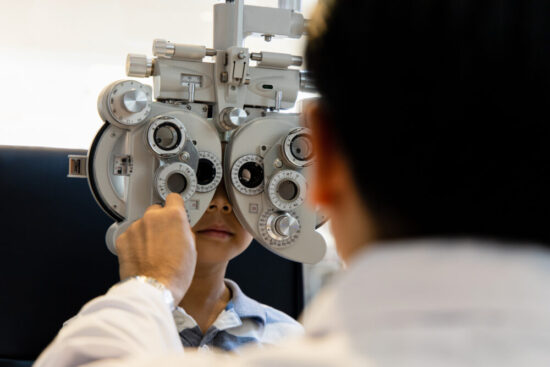 Eye exams and prescription glasses are often surprisingly expensive, particularly if you don't have insurance. Fortunately, there are options for people who are worried about the cost. If you're looking for ways to get a cheap or free eye exam and prescription glasses, here are some options to explore.
Explore Programs for Low-Income Individuals
There are multiple national programs that help low-income individuals and households get critical eye care, including free or low-cost exams and prescription glasses. EyeCare America specifically targets people who are at least 65 years old and at high risk of developing glaucoma. While they don't offer eyeglasses, it's a simple way to get a free eye exam if you qualify.
Vision USA helps match low-income individuals with providers who will give them a free eye exam. The program may also provide glasses, though that depends on your state. Lions Club International is another resource that works similarly, making it worth exploring.
There are also programs that require referrals. New Eyes needs a referral from an eye care provider, social worker, or similar professional, but it can provide free glasses (not exams) if you're eligible. OneSight's OnSite Voucher Program needs a referral from an approved nonprofit, and once you have the referral letter, you can get free glasses from participating eyeglasses stores. VSP Global Sight for Students is focused on children from low-income households and typically needs a referral from a suitable school or community organization.
Look for Appointments at Optometry Schools
Optometry schools need individuals to come in for appointments to give students a chance to learn and grow while pursuing their optometry degrees. Often, the cost of these appointments is low, and some may even offer free eye exams to qualifying individuals.
While a student will conduct the exam, their work is overseen by a licensed professional. As a result, you can expect high-quality care. Just be aware that these appointments last longer than traditional ones, as the instructional elements of working with students can slow down the process a bit.
Usually, these programs won't have mechanisms for providing you with eyeglasses. However, you will get a copy of your prescription, and you can use that to purchase eyeglasses from a suitable source, including many low-cost providers.
Low-Cost Eye Exam Centers
Certain retail eye exam centers are known for their lower prices. Often, the total cost of an eye exam and glasses is well below what you find at traditional optometry offices.
One prime example is America's Best, which offers flat-rate eye exams or deals – such as free eye exams and two pairs of glasses for a specified, low price – that are far less than you'd spend in many other locations. EyeCare America is another option, as well as Target Optical and the Walmart Vision Center.
Costco Optical centers are another excellent resource. While you need to be a Costco member to buy glasses there, the savings are worthwhile if you already have a Costco card. You also don't need to be a member to get an eye exam, and the price is usually quite low.
Discount Online Glasses Retailers
If you get a free or low-cost eye exam and need glasses, there are several discount online glasses retailers that can help you pay less for prescription glasses. EyeBuyDirect, ZenniOptical, Pair Eyewear, Warby Parker, and GlassesUSA are all examples of online retailers in this niche.
Usually, you can try on glasses virtually by uploading a photo of yourself, letting you see how the glasses would look before buying. Some even have home try-on programs that allow you to try on frames (without prescription lenses) on your own to make sure they fit and look good.
It's important to note that the advertised costs at these retailers usually only include basic lenses. If you need specialty lenses, such as bifocals, or have a high prescription strength, expect the price to go up a bit. Still, they often beat many optometry offices, so it's worth exploring.
Do you know of any other ways a person can get a cheap or free eye exam and prescription glasses? Have you used one of the options above and want to tell others about your experience? Do you forgo getting new glasses because of the cost? Share your thoughts in the comments below.
Read More:
Come back to what you love! Dollardig.com is the most reliable cash back site on the web. Just sign up, click, shop and get full cash back!