When Ken Schanke and Audrey Poynton first signed their franchise agreement with Teriyaki Madness in fall 2022, the couple was set to open three restaurants. As they dove into training and further assessed the opportunity in their area, that number jumped by five as they decided they wanted to own their northern Connecticut market.
"We just said, let's go for it. If we're going to do it, let's do it," said Poynton, who with her husband is developing eight locations of the Japanese-style teriyaki bowl franchise. Their first unit, in Hamden, Connecticut, is set to open in early November, followed by a restaurant in Enfield. And leases are already signed for locations in Avon and Manchester.
The seemingly rapid succession of openings is part of a plan to introduce the Denver-based brand in a new state, an effort Poynton and Schanke are familiar with as pioneers of Jersey Mike's in New England. In five years as Jersey Mike's franchisees, their Meraki Restaurant Group opened four locations of the sub sandwich brand.
Ready to keep growing, they sought another concept through which they could extend the tenets of their company, which as its name suggests is rooted in the modern Greek concept of "meraki" or, as Schanke put it, "do everything with heart, soul, love and passion."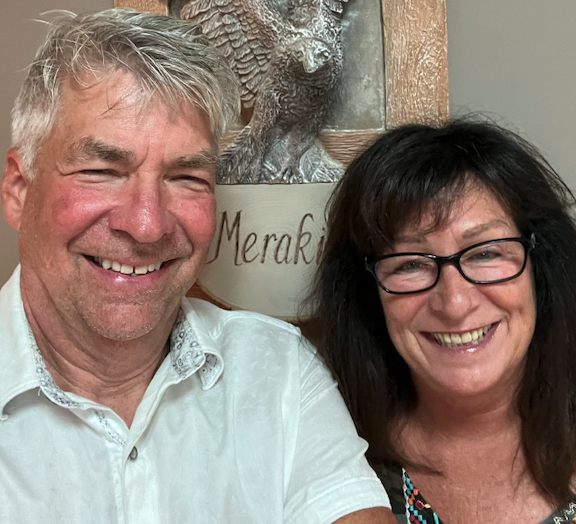 "Giving back is a buzzword in the corporate world," said Schanke—he and Poynton both spent 20-plus years at AT&T Advertising Solutions. "But with Jersey Mike's, its true to the brand. Teriyaki Madness, like with Jersey Mike's, we loved the food and they have the same principles of what we love, working in the community."
Jersey Mike's, known for its annual Day of Giving, during which 100 percent of sales are donated to local charities, was the right fit for the couple as they left their corporate careers and looked a new opportunity.
"We wanted to find something where we could provide a career for the people we employed," said Schanke. Their restaurant group offers medical benefits, has a 401(k) plan with company match and provides employees access to a financial wellness program. Store managers can earn year-end bonuses of $15,000 to $20,000, he continued, and there's opportunity for ownership stakes in new stores.
The group's Manchester and Enfield Jersey Mike's stores are among the top 10 sales performers in the entire system every week, Schanke noted, and he and Poynton see an opportunity to duplicate that success with Teriyaki Madness.
The use of fresh-chopped vegetables in the made-to-order bowls, and the health-focused brand positioning of Teriyaki Madness, were attractive elements as the pair evaluated numerous brands. "I feel like what we're going to offer to customers coming through the door is a healthier option," said Poynton, as Schanke added the restaurant offers the type menu their own five children, aged 28 to 39, find appealing.
Led by CEO Michael Haith, who invested in and then bought the brand in 2016, Teriyaki Madness has grown to 137 locations. Its average unit volume in 2022 was $1.1 million; the initial investment range is $305,750 to $731,260.  
Related: Teriyaki Madness Partners With FranShares in $12 Million Deal