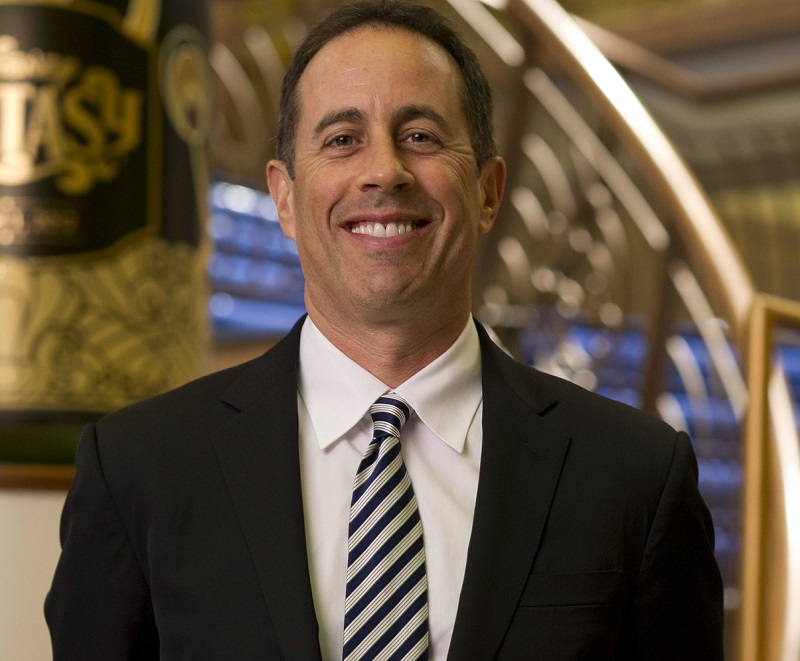 American Jerry Seinfeld is a comedian, screenwriter, television and film producer, and actor. He is best known for creating and appearing in the television series Seinfeld, which ran for nine seasons. Jerry is also one of the wealthiest people in the world. So what exactly is Jerry Seinfeld's net worth?
Who Is Jerry Seinfeld?
Jerome Allen Seinfeld was born on April 29, 1954 in Brooklyn, New York to parents Kalman Seinfeld and Betty Hosni. He spent his childhood in suburban Massapequa, New York. After graduating from high school, he attended State University of New York at Oswego for two years, then transferred to Queens College, where he graduated with a degree in communications and theater.
While at Queens College, he started his stand-up comedy career by periodically appearing at open-mic nights. His first stand-up gig was at the Catch a Rising Star comedy club in New York City. He spent nearly 15 years as a successful touring stand-up comedian, appearing on The Tonight Show Starring Johnny Carson in May 1981 and other late night programs throughout the years.
In 1989, Jerry teamed up with Larry David to create the hit show Seinfeld. The show was a massive success, airing 180 episodes over 9 seasons. In 2007, he had a major role in the animated Bee Movie, which he also co-wrote and co-produced. In 2008, Seinfeld appeared in Microsoft advertisements alongside company co-founder Bill Gates. In 2017, a deal with Netflix moved his Comedians in Cars Getting Coffee series to the platform and paid him for two exclusive stand-up specials. He has also authored two books: Seinlanguage and Halloween, a children's book.
In 1998, Jerry met Jessica Sklar and married her several years later. Together, they have three children.
Jerry Seinfeld's Net Worth And Assets
According to published reports, Jerry Seinfeld's net worth is $950 million, making him one of the world's wealthiest entertainers. It is estimated that he earns between $20 million and $50 million annually. The difference mainly depends on whether he is touring that year. He earns an estimated $20 million from performing on a national tour.
Jerry earned the vast majority of his fortune from the sitcom Seinfeld. In the beginning, he made about $20,000 per Seinfeld episode, but that had risen to $1 million per episode by Season 9. Jerry also owns 15% of the show's backend equity points, earning him $400 million off each syndication cycle. It's not publicly known how much he earned from the Bee Movie film or for the different components of his deal with Netflix.
Jerry and his wife Jessica also own a lot of real estate. They own a townhouse in New York City overlooking Central Park that takes up the entire 19th-floor of the building. They also own a 12-acre oceanfront estate in East Hampton, New York that has a private baseball diamond in the back of the property. They bought a 27-acre estate in Telluride, Colorado in 2007 and bought a separate 17-acre adjacent property a year later. They also have a lake home in Vermont.
Future Effects On Net Worth
Jerry Seinfeld's net worth is expected to keep growing in the future. The Seinfeld series has proven to be popular on streaming and continues to contribute to his net worth. His other endeavors have also been lucrative, keeping his annual earnings high.
What do you think Jerry Seinfeld's net worth will be in 2025? Let us know in the comments below!
From Brat Pack to Billionaire: Uncovering the Astonishing Net Worth of Jami Gertz
The Top 10 Wealthiest Actors in the World: Who Reigns Supreme in Hollywood's Rich List?
Mila Kunis: From Humble Beginnings to Hollywood Riches – A Look at Her Impressive Net Worth
The post The Business of Laughter: How Seinfeld's Net Worth Continues to Soar Beyond Comedic Heights appeared first on Plunged in Debt.