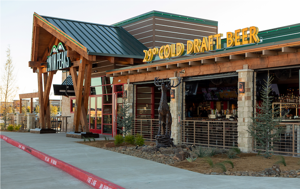 Philadelphia's raving sports fans will equal success for sports bar concept Twin Peaks, said Tom Pisula as he named a key reason for wanting to bring the brand to the city.
"I think we'll kill it," said Pisula, who with operator Moussa Haidar signed a 10-unit franchise agreement for the market. "It's such a big market … the fans there are crazy for their sports. I think it will absolutely stand out."
As the home of the Eagles, 76ers, Phillies and Flyers, encompassing the NFL, NBA, MLB and NHL, Philadelphia is "so natural for Twin Peaks," continued Pisula, who said they expect to start construction on their first restaurant by August 2022.
Pisula, whose Texas-based Pinecroft Realty manages and leases commercial real estate with about 100 medical office buildings in the southeast, also has property he leases to several restaurant franchises. He said he brings the real estate and finance expertise to the partnership, while Haidar is a restaurant veteran who operates 21 IHOPs and is an On the Border franchisee. It was Haidar who brought the Twin Peaks opportunity to Pisula; the two have known each other for more than a decade but this is their first development project together.
Twin Peaks, said Haidar, "is one of the best sports bars" out there, and its made-from-scratch food is a big differentiator in the segment.
Pisula, meanwhile, lives in The Woodlands, a Houston suburb, and was encouraged by the visible popularity of the nearby Twin Peaks in Shenandoah. "It's always packed," he said, adding systemwide, "the sales are really high—they have some of the highest sales per unit."
The brand's average unit volume—more than $4.4 million in 2019—is a key reason FAT Brands CEO Andy Wiederhorn was drawn to the concept, prompting FAT Brands' bid to buy Twin Peaks for $300 million. The acquisition was finalized in October.