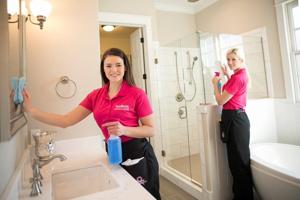 In a brand refresh, Two Maids and a Mop said farewell to the second part of its name following its acquisition by Home Franchise Concepts in late 2021.
"Part of it was that we were doing that internally anyway," President Paul Ebert said of the new, shorter name, Two Maids. The longer name felt wordy and makes for a long website domain name, he said. The name change was the easiest way to "keep the foundation of our brand and our business, but kind of move it into the new day and our future, where we're trying to go."
The refresh comes with a new tagline: "Let life shine." According to Ebert, the tagline has a few meanings. "It's not only making the homes that we're in shine, but the lives of our house cleaners and the communities that we live in," he said.
Two Maids has contributed free cleanings to cancer patients around the country, and funds other charitable organizations, such as Alliance for Hope International, which serves survivors of domestic and sexual abuse. "We're really excited about those two relationships, and what we believe they can do," Ebert said.
At Two Maids, when it comes to cleaning, there's a simple philosophy: The house is either clean or it's not. "Our goal is to meet and exceed your expectation every single time," Ebert said. "We can't be different based on the way that we clean your home. We either meet that expectation or we don't."
Because of that, Two Maids tailors its customer service around the people and communities it serves. The brand is creating programming that includes financial literacy, health, wellness and job skills training for franchisees and employees. "We can put them in a better place than they started with us," he said. "And that's going to look different for everybody, but that's the ultimate goal and vision of where we're trying to go in this brand refresh."
Home Franchise Concepts bought Two Maids in fall 2021 and has nine brands under its umbrella, including Aussie Pet Mobile, Kitchen Tune-Up, Budget Blinds and AdvantaClean. Backed by JM Family, an automotive giant, Home Franchise Concepts has about 2,400 franchised territories in its portfolio.
Notably, by the end of 2021, Two Maids had the lowest unit count, 93, among home cleaning brands on the Franchise Times Top 500 list, which ranks franchises by global systemwide sales. By comparison, competitors Merry Maids and The Maids have more than 1,000 units. The second lowest unit count among six home cleaning brands goes to The Cleaning Authority, which had 212 units at the end of 2021.
Two Maids had $41.6 million in systemwide sales in 2021 from its 93 units, again the lowest in the home cleaning category. In 2022, the franchise hit 100 locations. "We're not settled for that," Ebert said. "We want to keep going and continuing to build success."
The brand's goal for 2023 is simple: to be better than last year. For Ebert, that means improving a little bit day by day. Since Ebert took on the president role in mid-2020, network revenue has doubled. It's looking to add 25 to 30 new territories by the end of this year.
While Two Maids' franchisees are each different, they share a sense of people-driven culture. "We are in the people business," he said. "We just happen to clean houses."