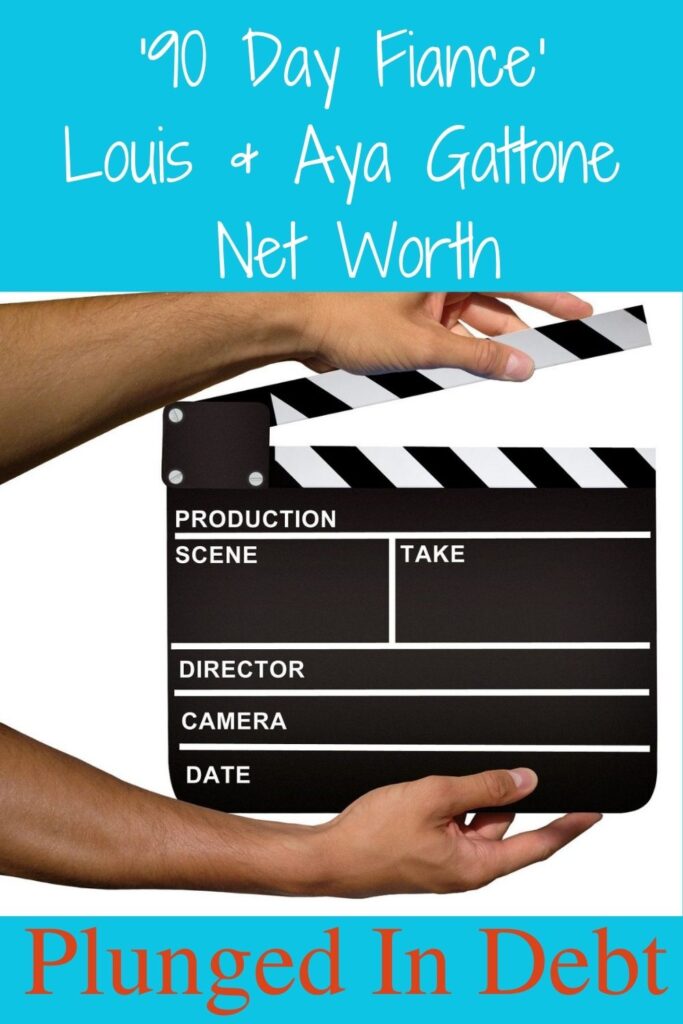 Most reality television celebrity couples don't make it. When you're talking about a show like "90 Day Fiance," the chances of staying together in a happy coupledom seem slim. However, some do make it. And fans love those stories. So, of course, fans love Louis & Aya Gattone who were on the very first season of the show and are still together. They obviously didn't make most of their money from the show, since it was just a season of work. So how do they earn their money. And what is '90 Day Fiance' Louis & Aya Gattone net worth?
What Is 90 Day Fiance?
If you're not familiar with the show, it's a reality television show all about relationships. Specifically, one person lives in the United States and the other lives in a different country. They have fallen in love, sometimes having met in person during travels and other times only knowing each other online. They want to get married, and live together, which means that they have to apply for the K1 visa or Fiance Visa. They have 90 days to get married after the person who isn't a resident of the US arrives in the country. Hence, the title. The show follows their struggles as they try to develop their marriage in such a pressure cooker.
Louis and Aya Gattone are one of the original couples from the earliest seasons of the show. In fact, they are among the few original 90 Day Fiance couples who are still married. ScreenRant breaks down their relationship timeline:
Louis and Aya met online through an international dating service. Aya is from the Philippines, and she really would have loved to remain there. However, she didn't have any children, yet. Louis, on the other hand, had two young children from a previous marriage. He didn't want to move to another country and leave them behind. Therefore, they decided that Aya would moved to the United States. They sharing this process on the first season of 90 Day Fiance in 2014.
Like any couple under such pressure, they had their challenges. However, they decided to go ahead with the quick marriage. In 2018, they had their first child together, a son named Giovanni. Two years later, they had their second son, Stefano. They are still reportedly happily married n 2022.
Many "90 Day Fiance" couples leverage their appearances on the show to earn money through continued television appearances. In fact, there are several 90 Day Fiance spinoff shows. Some are entire shows devoted to one couple's journey. Some are "Pillow Talk" series in which past couples watch the current season and provide commentary. These couples obviously continue to earn money from their appearances.
However, Louis and Aya opted not to go that route. They appeared on the first season of the show and then began to quietly fade back into a private life without the cameras around. Unlike many of the other people on the show (couples as well as those who have not stayed together), they didn't go the route of becoming influencers either. So, then, how do they earn money? Where does '90 Day Fiance' Louis & Aya Gattone net worth come from?
Rustic Charm by Design
If you head to Louis' Instagram account, where he has fewer than 2500 followers, you might see a post advertising their business account: Rustic Charm By Design. This Instagram account only has 21 followers as of April 2022. However, the link in the bio leads you to their business website. Here they sell "Handcrafted Jewelry and Woodwork Crafted For Your Style."
The website says that both Louis and Aya are creative individuals who decided to work together to launch handcrafted wood items. They range from earrings to Adirondack chairs but are all tied together by two themes: rustic charm and being "designed to fit the space and style of whoever owns it." So, it's unclear how much of '90 Day Fiance' Louis & Aya Gattone net worth comes from this endeavor, but it seems to be a business that they put a lot of love into.
Louis Gattone's Career
Louis's Instagram account also links to a blog that he updates sporadically, mostly with stuff about his coaching experience and workouts, but also sometimes with other aspects of life. In April 2019, he shared that life was very busy. Their first baby was not quite one year old, and he had a lot on his plate. Through this post, we learn a little bit about his work.
As if then, he was working a full-time job, a second part-time job, and attending school for his Bachelor's Degree. He notes that his company reimburses the cost of his education. He doesn't say here what these jobs are. However, a post over on The Ivy Tech Blog reveals more. There we learn that he went back to school in his mid-thirties in order to get a degree in Cyber Security and Information Assurance. That post says that he graduated in late 2017, so there's some discrepancy between the dates.
It looks like perhaps the 2019 post was a repost at a later date, as the information is similar between the two. In the latter post, it says that he had a full-time job as a warehouse manager and a part-time internship at a cyber security company while he was in school. In both posts, he emphasizes that he couldn't do it without Aya. She takes care of the house and kids while he works and attends school.
What Is '90 Day Fiance' Louis & Aya Gattone Net Worth?
Unfortunately, we can't find specific information about '90 Day Fiance' Louis & Aya Gattone net worth. However, Louis has a LinkedIn profile. It says that he works as a Senior OT/IoT Cybersecurity Consultant for EY. A review of the EY job search site reveals that they claim to offer competitive pay. If you head over to Glassdoor, you'll see that the average Cybersecurity Consultant salary is $87,456 while the average earnings per year (presumably including bonuses) is $109,387. Since his job paid for his education, he presumably doesn't have any student debt. They live in an average-priced area. Therefore, they have average American net worth.
Read More:

Kathryn Vercillo is a professional writer who loves to live a balanced life. She appreciates a good work-life balance. She enjoys balance in her relationships and has worked hard to learn how to balance her finances to allow for a balanced life overall. Although she's only blonde some of the time, she's always striving for total balance. She's excited to share what she's learned with you and to discover more together along the way. Learn more about her at www.kathrynvercillo.com.