It's almost a cliche, but it makes sense that StrainIQ, a Cannabis Management Saas Startup won the last Startup Stage staged at Kingston Beta Tech event in Jamaica, the land of Wood, Water and..well…also Weed.
At the November staging, Oz Smith, Founder of StrainIQ told the packhouse and pitched to the four judges- that his startup is a software-as-a-service platform that allows licensed Cannabis businesses to Track, Trace, and Tag their crops to comply with and operate within Jamaican Cannabis Regulations.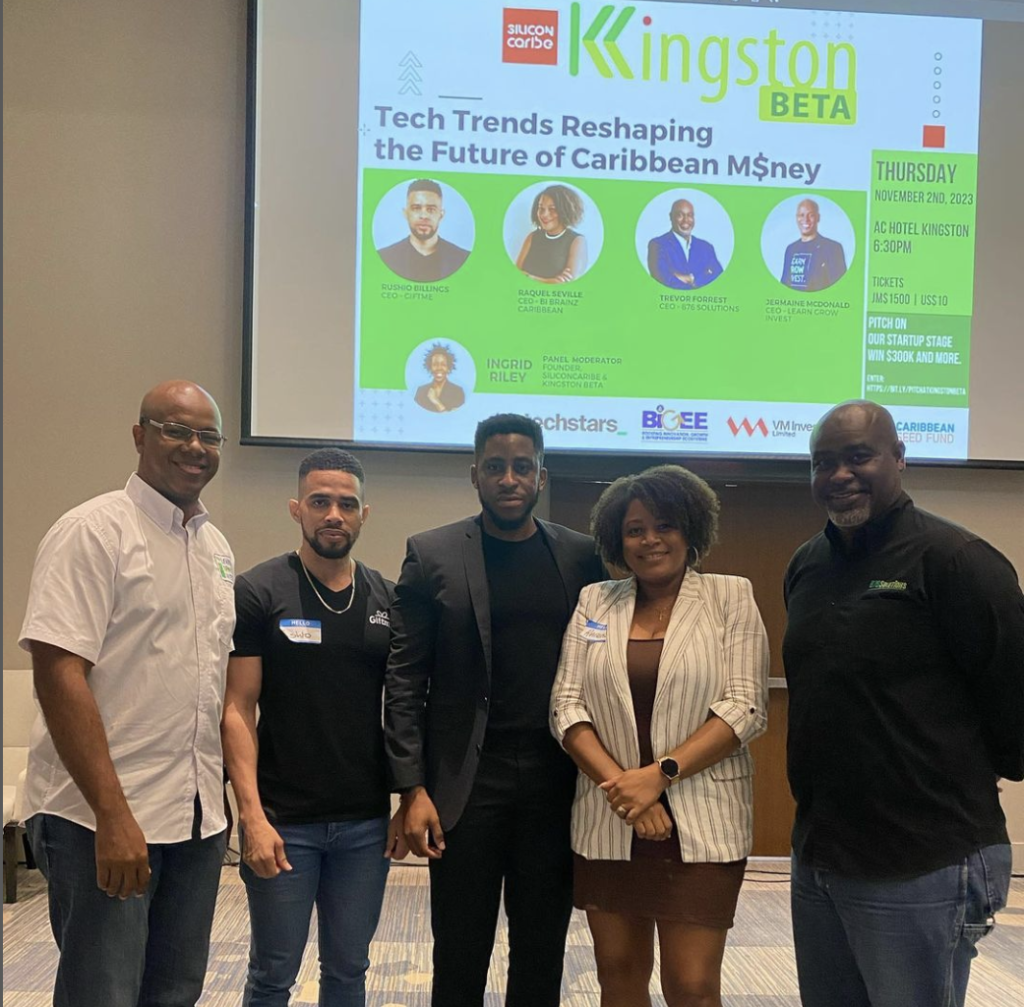 [ L-R Jermaine Morgan, CEO of Leard Grow Invest, Rushio Billings, CEO of GiftMe, Oz Smith, Founder of StrainIQ, Raquel Sevile,CEO of BiBrainz Caribbean, Trevor Forrest, CEO of 876 Solutions at Kingston BETA event, November 2, 2023 at AC Hotel Kingston.
Oz Smith's 5-minute pitch won ahead of over 21 competition entries, won them $300,0000 cash from the Development Bank of Jamaica BIGEE Programme, and introductions to angel and venture investors and relevant mentors from the Kingston BETA local and global network.
Kingston Beta Tech Event Series, from SiliconCaribe, kickstarted the Tech Startup Scene in Jamaica in 2007 and is now the Caribbean's first and longest-running tech startup event series and community. 
Over its 16 years, it has evolved into a Tech Entrepreneurial and Startup Community Development Network that provides education, connection, community, and access to resources for Jamaican and Caribbean Tech Entrepreneurs with a mission to do our part in producing successful Jamaican and Caribbean Digital Businesses- both funded and bootstrapped.
Kingston Beta has a PitchClub – A monthly Meet up & Startup Pitch Stage, Office Hours as well as Mentor and Investor Forums and dinners.
Kingston BETA is currently sponsored by the Development Bank of Jamaica, Techstars, Entrepreneurs Across Borders, and the Caribbean Seed Fund.
Kingston BETA is the TEch Community brand of SiliconCaribe.