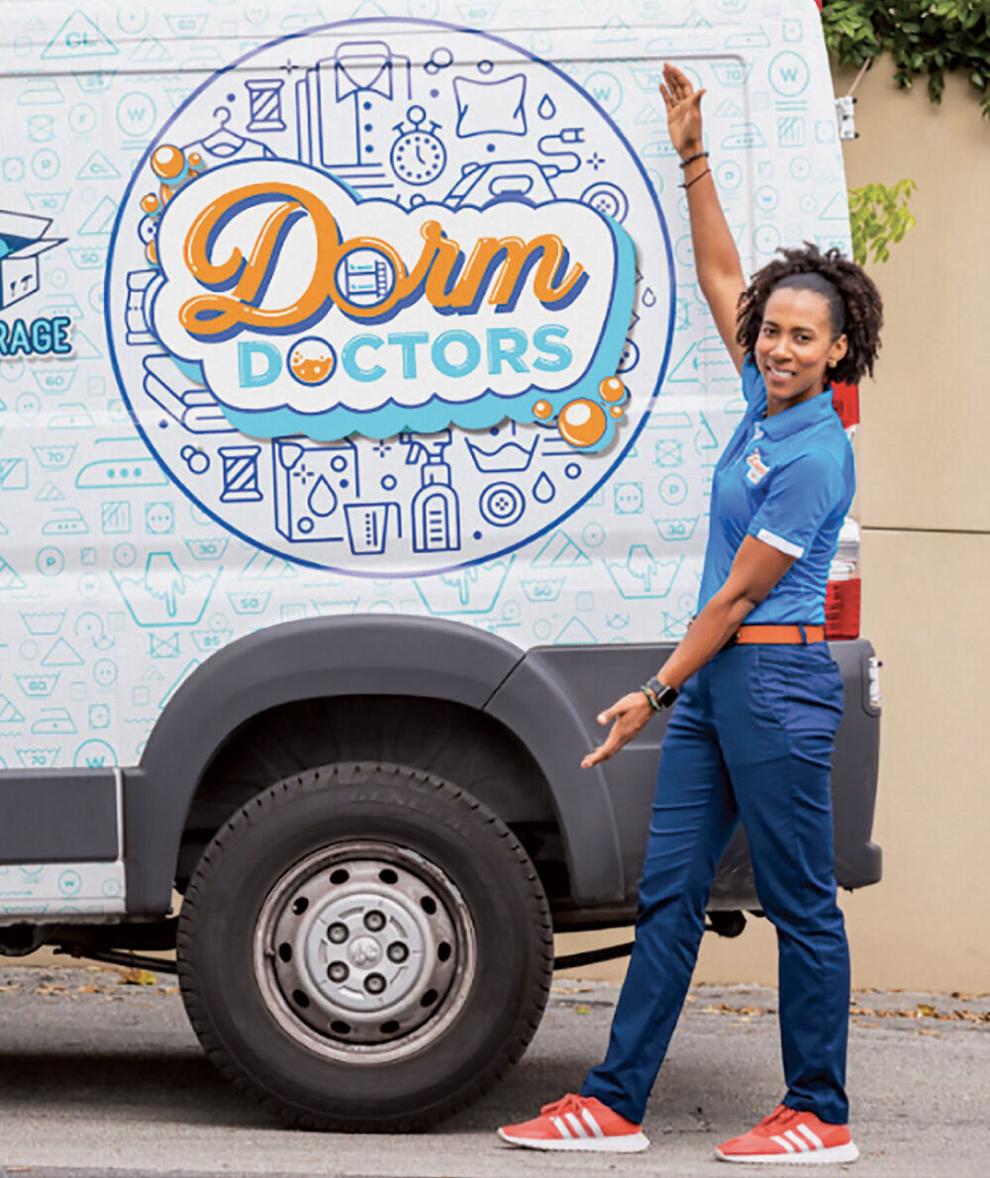 A heated solar blanket ski jacket. A beach bag that turns into a blanket and can roll into itself to become a neck pillow. These are some examples from Lauren Hillard's "big book of inventions," as she called it, and there are plenty more.
"I could go on and on about different contraptions. I love process improvements … to enhance how we use things," she said. That mentality led to her first business, college student-focused laundry service Laundry 305, which she started in Miami in 2016 and served as the inspiration for her newly launched franchise, Dorm Doctors.
No, it's not a medical company and no, Hillard said she hasn't encountered any brand confusion since introducing the concept to students—or in reality, to their parents—at the University of Miami in 2018. Hillard explained Dorm Doctors as a mobile "collegiate concierge" providing laundry, cleaning and storage/moving services to students living on or near campus and in fraternity and sorority houses. The idea to expand beyond laundry arose as part of her constant search for improvement.
"I was sitting in the parking lot at the end of my first year" with Laundry 305 "and seeing just how much stuff is moved out of a dorm at the end of the year," she said of the storage and moving service addition. "I saw an opportunity to keep my customer and create another division of my business."
Cleaning came next, and while one reaction might be "shouldn't college students be able to clean their rooms and do their own laundry?" Hillard, a former NCAA Division 1 athlete who rowed at Syracuse University, said students are stressed and pressed for time more than ever.
"The sell to parents is keep structure and order for your child," she said. "Parents think, 'my kid has to have this,' and they'll sign up for all the services, or they'll say no to laundry but yes to house cleaning." The multiple business lines generate revenue "regardless of the season," she continued, and the market focus on "college-dense metropolitan areas" means franchisees can also attract regular residential customers and corporate clients.
Hillard, who studied clinical nutrition at Syracuse—"I've stored away a couple blueprints for programs in community health"—and has a master's degree in sports management, plus an MBA, was working in event and facility operations before starting her business. Like many people with an entrepreneurial mindset, "working for someone else was just not in me anymore," she said. Franchising Dorm Doctors was a goal from the beginning.
"I always knew, back when I started the business, that I needed to grow and not be the owner-operator," the 30-year-old said, and she documented the system and created standard operating procedures long before she hired an attorney and finalized the franchise disclosure document.
Hillard expanded Dorm Doctors to three more university markets in Florida and piloted the concept in Pittsburgh and at schools in Washington, D.C.'s metro before launching a franchise program. As a result, she's initially looking for franchisees in Florida and Pennsylvania, plus Massachusetts, home to Boston and Harvard universities.
"I've had success in this business consistently since its inception," she said. Hillard last year also took Dorm Doctors through the Goldman Sachs 10K Small Businesses program, which she called "very intensive" and something that "gives me access to a network of advisers, business leaders and peers across the country."
As a mobile business, Dorm Doctors has low overhead and there's no need for a storefront, she said. The cost to open a franchise is $176,500 to $236,500; that doesn't include the cost of renting storage space or contracting with a laundry facility.
"Mom and dad aren't there to tell you when to do laundry or clean your room," said Hillard, and with Dorm Doctors, they don't have to be. "It's definitely geared toward the parents and the students are the beneficiary."