Muckle, a Fintech app that seeks to centralise, democratise and make transparent the process of giving for social impact won the Startup Stage from a field of 6 finalists and 23 entrants at Kingston BETA's July tech event, at the AC Hotel.
The Jamaican Tech Startup finalists were judged by Managing Director of TechStars Atlanta and New Orleans Melissa Pegus and her Investment manager Tamela Nelson, as well as Andrew Pairman, CEO of Anbell Group in front of community attendees of almost 200 people.
Muckle in their 5 minute pitch, says that it provides a central platform where non-profit and micro business projects in Jamaica can receive funding from those in the Diaspora that want to get an opportunity to give back with ease, minus the high money transfer services fees and an emphasis on using the power of community to aggregate small amounts and make a big impact. 
The Startup Stage is a monthly Pitch competition that happens at every Kingston BETA, that's open to Jamaican and Caribbean Tech Entrepreneurs who are using technology to solve various problems. The winner gets $300,000 from Development Bank of Jamaica's Boosting Innovation, Growth and Entrepreneurship Ecosystem (BIGEE) programme as well as connections to entrepreneurial programmes, introductions to investors and relevant opportunities from people and organisations in the Kingston BETA Network.
Also at the last Kingston BETA, Founder Ingrid Riley interviewed Melissa Pegus, Managing Director of Techstars Atlanta and New Orleans in a fireside chat about "Unlocking Investment Opportunities: How and When To Raise Money from Investors for Your Startup."
The FireSide Chat
Riley asked some poignant and incisive questions and Pegus dropped knowledge gems for the entire 54 mins. You can get a really cool snapshot of the conversation as covered by Kadia Francis of DIgital Jamaica. Check out her recap on Threads here.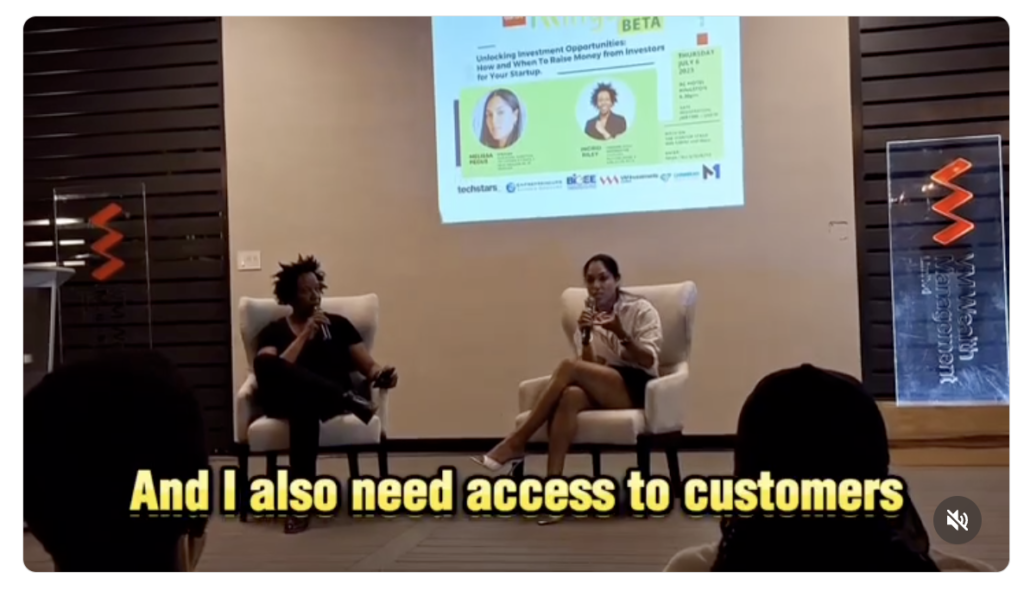 Ingrid Riley, Founder of Kingston BETA ( L) Melissa Pegus, Managing Director of TechStars Atltanta and New Orleans ( R). Photo by Digital Jamaica.
Some of the gems covered: #1: "The difference between owning a small business and running a start-up is the amount of control you'll have over what you're building at the end of the day."
💎 #2 : Running a start-up may look sexy, but you have to have a deep reservoir of passion for what you're doing to sustain you through the inevitable lows.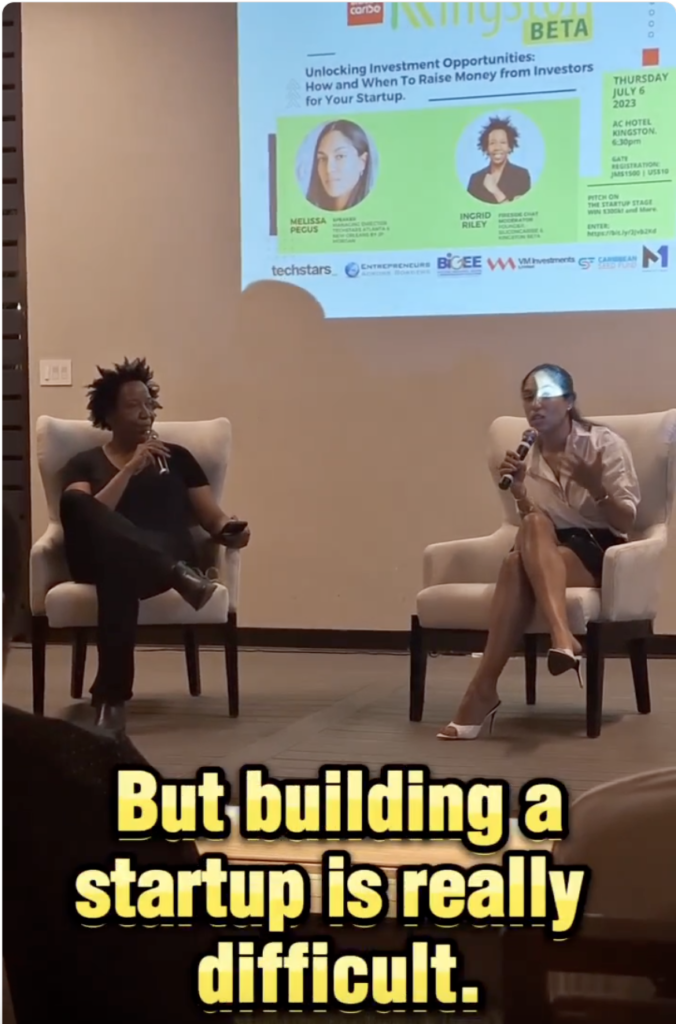 Read the rest here.
TechStars Atlanta & New Orleans came on as Kingston BETA's Brand Partner in June 2023, after Riley and Pegus met at the Beyond the Beach Tech Investor Event in April this year held by Entrepreneurs Across Borders in Partnership with Riley.
About Kingston BETA
Kingston BETA's Event Series is Now On a Summer Break and returns on Thursday, September 14th, AC Hotel, 2023.
Kingston BETA is both an event series, community, and network that connects Jamaican and Caribbean entrepreneurs, tech talent, investors, tech industry professionals, connectors, and creatives to each other as well as to potential partners, jobs, funding, and business opportunities. It is the Caribbean's first and longest-running tech event series and startup community.
We've had entrepreneurs pitching from 10 Caribbean countries, plus the USA and UK. The event has attracted government, international development agencies, investors, and tech industry professionals, Caribbean and global speakers, and endorsements.
Let's Stay Connected.
Join The Kingston BETA Community Mailing List here. Get our monthly Community Updates Newsletter, links to resources plus alerts to our events and those of our partners. There is value in connections and community.