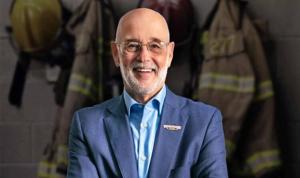 Don Fox doesn't want your franchise to turn into a Kodak, Blockbuster or Sears. While all are (or were) great brands, they didn't innovate fast enough (or at all), said Fox, CEO of Firehouse Subs, and ultimately relied too much on the branding to carry the business.
"Branding can't do it alone," said Fox, speaking this morning at Springboard, a conference geared toward emerging franchisors, in Philadelphia. Branding matters, "but success won't be driven by taking a Firehouse logo and putting it above the door."
Firehouse Subs, ranked No. 92 on the Franchise Times Top 500, grew system sales 25.5 percent last year, to $1.09 billion. To succeed in a crowded category, Fox said Firehouse has to win daily with its three pillars of serving hearty and flavorful food, providing heartfelt service and emphasizing community involvement through its Firehouse Subs Public Safety Foundation. "I don't ship smiles in a box," he said, which is why he leads by example and expects franchisees and managers to do the same in the stores.
"Every penny, every dollar that flows into my company comes by virtue of someone putting mayonnaise on bread. And I never forget it," said Fox. "And if I walk into a restaurant, I never take a freebie, a discount in one of our restaurants, our franchisee's restaurants … I'm going to pay 100 percent when I go in. And the other cardinal rule: I'm never going to get in line in front of a guest."
RELATED: Burger King Parent Buys Firehouse Subs for $1 Billion as Founders Exit
Other highlights from Fox's keynote address:
• Focus relentlessly on the customer. That customer, said Fox, is making an elective choice to spend money at your business, and "if they don't make that decision, you have nothing. …You have to always be relentlessly focused on the customer."
• Set high standards: "You can never be just good enough," said Fox. "I'm always setting high standards. I'm always looking to exceed them because if you ever get complacent, that means someone else is catching up"
• Give back to the community. "I am a fundamental believer that charity, philanthropy should be a fundamental part of every business," said Fox, and "we're all better off if we each find a way, in our own way, to give back something." Plus, "from a pragmatic standpoint, our customers reward us for it."