Part of an ownership group that acquired three Popeyes in North and South Carolina and signed an agreement to open 15 new units, Rob Tanner said it was real estate that originally motivated him to add another brand to the portfolio.
In order to develop larger parcels, "we needed to find another brand that's not competitive to Popeyes and we all said burgers," said Tanner of what led his group, Impeccable Brands, to sign a four-unit development deal with Freddy's Frozen Custard & Steakburgers. He's bringing the concept to South Carolina's Myrtle Beach market, with two sites already under construction.
Also the director of real estate for Impeccable Development, Tanner is developing a three-acre parcel in Little River, 20 miles north of Myrtle Beach, with Freddy's, Popeyes and "another QSR" he couldn't yet disclose. "There's extremely strong traffic counts, great visibility," he said of the site. The second Freddy's in the works is in Conway as part of a nearly 20-acre retail development, where Tanner will also open a Popeyes.
Impeccable Brands, whose partners include Tanner's uncle, Jeffery Postal, Amit Sehgal and former NBA star Carlos Boozer, is also a franchisee of Tropical Smoothie Cafe, Häagen-Dazs and Teriyaki Madness. Sehgal, also a Cinnabon and Auntie Anne's franchisee, is the operating partner, said Tanner, while Postal and Boozer are investors. Tanner worked with Boozer, a two-time NBA All Star who won gold in 2008 with the U.S. Olympic Men's Basketball Team, on a separate restaurant deal in South Florida and the two are "involved in a lot of ventures together," said Tanner.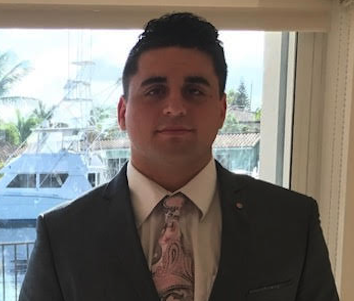 Tanner's restaurant experience, meanwhile, started at birth. "My dad was in Auntie Anne's for 30 years—I was born into his portfolio in Pennsylvania and Maryland," he said. Tanner started running shifts at age 14, and after deciding college wasn't for him joined his dad in the business full time. They grew their Auntie Anne's unit count to 16 and Tanner later bought into Great American Cookies, where he got to know Chris Dull and Mary Coots.
Dull was CEO of GAC's parent company, Global Franchise Group, a role he now holds at Freddy's, and Coots was senior franchise sales manager; she joined Freddy's last year as director of franchise development. It was Coots who put the burger concept on Tanner's radar.
His first Freddy's experience was a visit to the brand's Florence, South Carolina, restaurant at 9 p.m. on a weekday. "When we pulled up, it was the brightest thing on the street," Tanner said. He ordered almost everything on the menu and left thinking Freddy's was "impressive on all levels."
"We really believe they have it together," he said. "The quality of the product is the winner."
Based in Wichita, Kansas, Freddy's has more than 400 locations, nine of which are in South Carolina. Myrtle Beach is a new market for the company, said Chief Development Officer Andrew Thengvall. The multi-unit development experience of Impeccable Brands makes it "a really great fit for us," he said, noting Freddy's signed agreements for 75 new locations so far this year.
Most Freddy's restaurants have drive-thrus, and the average unit volume in 2021 was $1.88 million. The initial investment range starts at $641,000 and goes up to $2.1 million.