Darden's most recent reporting period was their fourth quarter, ending at the end of May. Their two largest chains are Olive Garden and Longhorn Steakhouse. Important, but less material, are Cheddar's Scratch Kitchen, Yard House, The Capital Grille, Season's 52, Bahama Breeze and Eddie V's.
FULL SERVICE CASUAL DINING – WE GO TO SCHOOL WITH GENE LEE, CEO OF DARDEN (DRI)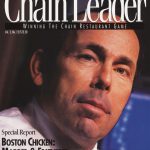 BY Roger Lipton
Gene Lee, and his management team at Darden (DRI), provide about the most candid description of current fundamentals among the publicly held full service casual dining companies. Not only are their reported results about the best in the industry, but they describe, on their quarterly conference call, how and why. Our summary below is of "best practices", as produced by Darden, and the outlook as presented within their conference call on June 24th.
Darden's most recent reporting period was their fourth quarter, ending at the end of May. Their two largest chains are Olive Garden and Longhorn Steakhouse. Important, but less material, are Cheddar's Scratch Kitchen, Yard House, The Capital Grille, Season's 52, Bahama Breeze and Eddie V's.
GENE LEE'S SCRIPTED COMMENTARY
Gene Lee, CEO, commented that they have begun to see demand come back strongly. They are relying on Technomic for industry data, which quantifies the casual dining industry at $189B in 2020, down from $222B in 2019. Though the industry has shrunk by 10% in units during the pandemic, Darden believes the industry will at least regain the 2019 level, implying that AUVs could be higher than before. Not mentioned was "price", but that would obviously contribute to higher nominal sales.
Lee considers that the Darden business model has improved over the last year. "We've invested in food quality and portion size….made investments in our team members to ensure our employment proposition…..and we invest in technology, particularly within our to-go capabilities, to meet our guests growing need for …the off premise experience."
RICARDO CARDENAS' (COO) SCRIPTED COMMENTARY
Ricardo Cardenas, President and COO, described the operational simplification effort, which has improved execution and strengthened margins. Even as dining rooms have reopened, off-premise sales have remained strong, proving to be "stickier" than expected. During Q4 off-premise was 33% of sales at Olive Garden, 16% at Cheddar's and 19% at Longhorn. Technology within online ordering has improved to-go capacity management and curbside delivery. During the quarter 64% of Olive Garden's to-go orders were placed online and 14% of Darden's total sales were digital transactions. Nearly half of all guest checks were settled digitally, either online or on tabletop tablets or via mobile pay. Cardenas described the effort to recruit and retain operational talent, claiming no systemic issues. Supply chain issues have also been largely avoided.
RAJESH VENNAM' (CFO) SCRIPTED COMMENTARY
Rajesh Vennam, CFO, described how SSS compared to pre-Covid (2019), improved from negative 4.1% in March to positive 2.4% in May and positive 2.5% in the first three weeks of June. Though to-go sales have seen a gradual decline, this has been more than offset by in-store dining. In the fourth quarter, CGS was 90bp higher (investments in food quality and pricing below inflation), labor was 190bp lower (320 bp of simplification efforts, partially offset by wage pressures). Marketing was 200 bp lower. Restaurant EBITDA margin was at a record EBITDA of 22.6%, 310bp higher than pre-Covid. CGS inflation is expected to be about 2.5% and hourly labor inflation at about 6%.
QUESTION AND ANSWER DISCUSSION
Gene Lee talked further about the "employment proposition". The store level margin allows for adequate wages, along with promotion of a thousand team members per year into management. When questioned about store level margin expectation, CFO Vennam indicated that store level EBITDA in the short term is expected to be 200-250 bp better than in 2019, with pricing of 1-2%, lower than CPI inflation of about 3%, but full year margin (ending 5/22) has yet to play out. Commodity inflation of 2.5% for the year will be 3.5-4.0% in the first half, expected to tail off to roughly flat by Q4. Chicken and seafood are elevated, also cooking oil and packaging, a little bit in dairy.
Lee feels that the throughput improvements, including menu simplification, allow for more sales capacity from this level. Mother's Day sales were a record and mid-week capacity is not fully utilized. Consumer behavior is not yet normalized, so the mix between dine-in and off-premise is still uncertain.
When questioned about the sales improvement "flattening" in May and June, CFO Vennam pointed out that promotional levels are not as heavy now as in '19, obviously helping the operating margins even with sales just modestly higher. Gene Lee commented later that the current advertising is generic, removing all incentives and discounts, with record operating margins, so marketing decisions going forward will obviously be carefully considered. Later in the call, Gene Lee talked about the Fine Dining segment also improving (a little later than Olive Garden and Longhorn) from down 12 in March to down 6 in May.
COO Cardenas described how technology is reducing "friction" in the guest experience, as well as for team members, making ordering and pickup easier. To further improve the process within the restaurant, a revamp of the point of sales system is planned.
Gene Lee talked about the potential to improve direct marketing to new digital customers, especially with the newly acquired ordering preferences. Lee emphasized the effort to improve the craveability of the menu, at the same time simplifying and improving the core items.
Relative to the addition of additional brands, Lee expressed great satisfaction with the improved returns within the existing portfolio. While not ruling anything out, he seemed to feel that there is substantial opportunity to profitably invest internally.
GENE LEE OPENS UP A LITTLE FURTHER
When pushed about why the sales recovery within Darden is not as fast as elsewhere, Gene Lee's response was telling. "Because we're not participating giving away food to third-party channels…not discounting heavily….not discounting cash through selling gift cards….we put up 25% fourth quarter restaurant margins….that's what we're focused on. A lot has changed…..virtual brands….guys, you got to get off this……this (Darden's portfolio of brands) is the best business in casual dining, not even by a little bit anymore…..our guests are loving the experience ….they love the changes that we made….but we're not chasing an index and we're not chasing where we were in the past. We love our position today."
Lastly, when questioned about what the new normal will look like, Gene Lee summarized by saying: "I think we've still got another six to nine months to understand (if we don't have any more problems with Covid) what are going to be the normal behaviors….and then you start developing your market plans and you get tactical on how to get these folks into your restaurant or use you as an off-premise occasion."
================
ABOUT THE AUTHOR:
ROGER LIPTON is an investment professional with over 4 decades of experience specializing in chain restaurants and retailers, as well as macro-economic and monetary developments. After earning a BSME from R.P.I. and MBA from Harvard, and working as an auditor with Price, Waterhouse, he began following the restaurant industry as well as the gold mining industry. While he originally followed companies such as Church's Fried Chicken, Morrison's Cafeterias and others, over the years he invested in companies such as Panera Bread and shorted companies such as Boston Chicken (as described in Chain Leader Magazine to the left) .
He also invested in gold mining stocks and studied the work of Harry Browne, the world famous author and economist, who predicted the 2000% move in the price of gold in the 1970s. In this regard, Roger has republished the world famous first book of Harry Browne, and offers it free with each subscription to this website.
In the late 1970s, Roger left Wall Street to build and operate a chain of 15 Arthur Treacher's Fish & Chips stores in Canada. In 1980 he returned to New York, and for the next 13 years worked at Ladenburg, Thalmann & Co., Inc. where he managed the Lipton Research Division, specializing (naturally) in the restaurant industry. While at Ladenburg he sponsored an annual Restaurant Conference for investment professionals, featuring as keynote speakers friends such as Norman Brinker (the "Babe Ruth" of casual dining) , Dave Thomas (Wendy's) , Jim Collins (Sizzler & KFC), Jim Patterson (Long John Silver's), Allan Karp (KarpReilly) and Ted Levitt (legendary Harvard Business School marketing professor, and author). Roger formed his own firm, Lipton Financial Services, Inc. in 1993, to invest in restaurant and retail companies, as well as provide investment banking services. Within the restaurant industry he currently serves on the Board(s) of Directors of both publicly held, as well as a private equity backed casual dining chains. He also serves on the Board of a charitable foundation affiliated with Israel's Technion Institute.
The Bottom Line: Roger Lipton is uniquely equipped as an investor, investment banker, board member and advisor, especially related to the restaurant, franchising, and retail industries. He has advised institutional investors, underwritten public offerings, counseled on merger transactions, served on Board(s) of Directors, public and private, been retained as an expert witness, conducted valuation studies and personally managed a successful investment partnership, all specializing in restaurants/retail. He has studied great success stories over the last 40 years, from McDonalds to Shake Shack. Even more important he has watched scores of companies stumble and sometimes fail. It is this insight that Roger brings to this website. His post, dated 9/30/15, called "VISIT THE GRAVEYARD….." lists a long list (though only a sample) of companies that have come and gone over the length of Roger's investment career. This platform is his way of maintaining a dialogue with other professionals in the field, improving his own investment results, and remaining well informed on industry issues.
========================
FRANCHISE YOUR RESTAURANT – CLICK HERE: http://WWW.FRANCHISEGROWTHSOLUTIONS.COM