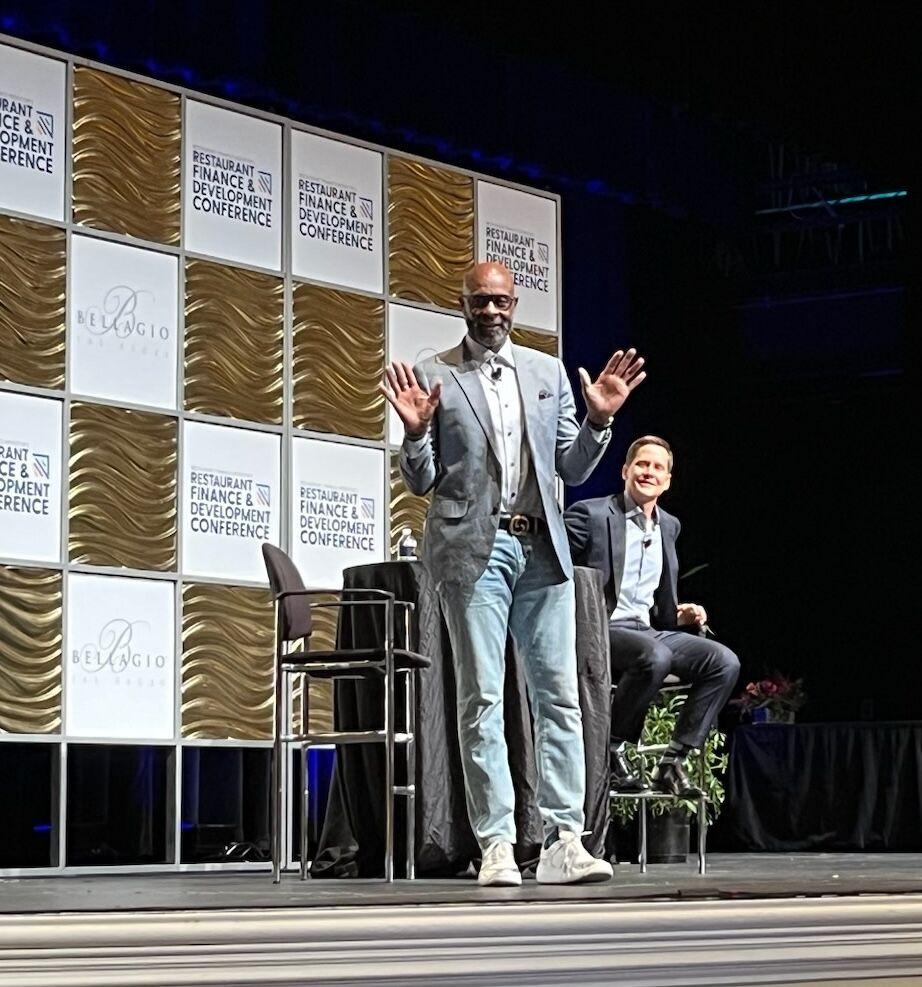 Whether he was breaking NFL records, competing in "Dancing With the Stars" or providing the support for his daughter's energy drink company, Jerry Rice has remained focused on being the best he could be.
It was that drive for excellence that transformed the once shy boy from rural Mississippi into a Hall of Famer and the NFL's greatest receiver. Eight years after playing his final game, the three-time Super Bowl champion with the San Francisco 49ers, who earned the nickname "World" because of uncanny catching ability, still holds 36 NFL receiving records and is regarded as the GOAT, or Greatest of All Time.
Rice's inspiring story of success on and off the football field and his devotion to his family, formed the basis of Rice's inspirational "Success Breakfast" talk at the Restaurant Finance & Development Conference's final day, November 15, at the Bellagio in Las Vegas.
During an entertaining and energetic 45-minute conversation with Chris Mumm, attorney at Monroe Moxiness Berg, the charismatic Rice shared stories about his upbringing, his football career and making the transition to successful entrepreneur and philanthropist.
"I really didn't have that much, to be honest with you, growing up in a family with five brothers and two sisters," Rice told Mumm and his captivated audience. "My father was a bricklayer and he would take me to work with him during the summer, which was very demanding work. We would get started about 7 o'clock and we will work all day, with me up on the scaffolding catching bricks being thrown up two at a time by one of my brothers."
Earlier this month, Rice partnered with Nick the Greek to lend his name to a new menu item. As part of the partnership, $1 will be donated to the 49ers Foundation for every Jerry Rice Bowl the restaurant chain sells through the end of the year. The foundation helps to build confidence and inspire collaboration among at-risk San Francisco Bay Area youth. 
Rice's last franchise partnership was in 2007 and 2008, when he appeared in Zaxby's television advertisements.
Looking tall and still remarkably fit, the 61-year-old former football great explained how he and his team prepared for their biggest games. "Even before those Super Bowls I had played every down in my head," he said. "I knew exactly every play we would run and when the ball was coming to me. We were incredibly prepared."
Rice—who often got out of his seat during the interview, waving his enormous hands with one finger sporting a glitzy Hall of Fame ring—said he was blessed to spend the majority of his career playing with Hall of Fame quarterbacks Joe Montana and Steve Young. "I've often said that if Montana was a female, we would've gotten married. That's how good our chemistry was," Rice said, drawing a laugh from the audience.
Rice competed on "Dancing With Stars" during the show's second season, where he surprised a lot of people, including himself, by finishing in the runner-up spot. He mentioned his love of golf and all things fast food, at least in moderation. "I'll eat everything and then I get on my Peloton," Rice said. 
Rice is remembered for his work ethic and dedication in the NFL and for consistently performing at his best in the biggest games, on "the biggest stage," as he called it. But the legacy that he says he is equally proud of now is the one he is building with his family and their new business venture.
In 2019, Rice and his family launched Dallas-based GOAT Fuel, a sugar-free energy drink made with natural ingredients, that is currently being sold in major retail stores, and recently formed a partnership to distribute in selected Vitamin Shoppes. Rice and his daughter Jacqui Gold are the co-founders of the company, with Rice serving as chair and Gold serving as CEO.
"I really want this I want this for her because you know it's about family goodness and it's something that can be passed down. I think it will be great," the Hall of Famer said. 
The Restaurant Finance & Development Conference, presented by the Restaurant Finance Monitor, Franchise Times and Food On Demand, runs Monday, November 13, through Wednesday, November 15, at the Bellagio in Las Vegas. Next year's RFDC will be held November 11-13, 2024, at the Fountainebleau in Las Vegas.