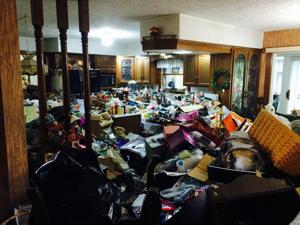 To someone without a hoarding problem, the mental illness may seem easily curable: Just throw everything away. For someone who suffers from a hoarding disorder, however, it's never that easy.
"You can open up 100 different front doors of what appears to be the same thing, but how that person got there is completely different," Steri-Clean CEO Cory Chalmers said. Steri-Clean is a franchise that provides hoarding, crime scene and biohazard clean-up services.
Hoarding impacts about 5 percent of the U.S. population. It often stems from another issue, like depression or a traumatic event. Not everyone has a home piled high with newspapers or flea market finds, like you see on TV, but what seems like a minor shopping problem could quickly turn into something a lot worse.
"The failure rate is high if we focus on the wrong thing," Chalmers said. "A lot of people want to take the hoarder out of the house and empty it. We've had people commit suicide that that happens to. I mean, it's everything they know. It's their purpose. It's their reason to get up in the morning. You can't just yank that away from someone. It has to be a process."
One way to approach the hoarding clean-up process is to find a goal the client can work toward. If a clean-up crew member finds a bunch of sewing supplies, for example, the crew member and the client could talk about how one of the house's rooms could be turned into a sewing room once the home is clean.
"And that excites them to be able to do something that they're passionate about, that they love doing. Then we'll take it a step further," Chalmers said. His staff could call a homeless shelter and ask if they need, say, handmade blankets. If they do, they could tell the clients. "And so now, they're excited, because now not only are they doing what they love to do, but they feel self worth. They're needed again."
Every hoarding case, like any mental health condition, is completely different.
"What I've noticed is there's really no two that are the same," said Laura Spaulding, CEO of Spaulding Decon.
For her, the hardest jobs are the ones that involve animal hoarding, a condition where someone obtains too many animals for their property and cannot properly care for all of them. The home quickly becomes a hazardous environment because of the animal waste.
"They have good intentions at the onset, they want to save animals from euthanasia or living on the streets, but the problem is, they never spay and neuter them," she said. "So, they just keep multiplying. And then before you know it, that good deed just really got out of control.
Steri-Clean and Spaulding Decon emphasize franchisee training
In 2021, average unit sales for Spaulding Decon franchisees were around $282,289 per territory. The brand has 34 locations across 18 states and the investment costs ranges from $87,400 to $140,950.
Franchisees and employees undergo training related to hoarding so they know the proper way to speak with clients and how to properly separate items when organizing a home. A big part of that is negotiation strategies, because clients may have their own rationale for keeping multiples of certain things, or holding on to something even though it's broken beyond repair.
"It's a lengthy process," Spaulding said. "We teach them empathy, how to put themselves in this person's situation."
The cost to open a Steri-Clean franchise ranges from $63,314 to $217,651. The brand finished 2021 with 24 units.
At Steri-Clean, franchisees take a two-week course at the brand's busiest location in southern California. Hoarding training includes an eight-hour class on the psychology behind the hoarding disorder. Chalmers called the class "the most valuable part" of the brand's training.
The job of cleaning out a hoarder's home can be daunting, but Chalmers said his franchisees and their employees feel a sense of reward after a house is cleaned up. A person with a hoarding problem in a clean home essentially has a chance at a new life.
"At the end, when you walk away, you've given someone a completely fresh start, a new home," he said. "You see an 80-year-old lady run and jump on her bed because she's hasn't seen it in 20 years. Like, that's a reward."