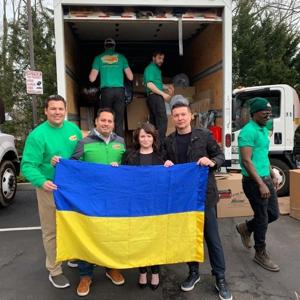 Stunned by seeing the heartbreaking footage of Russia's invasion on Ukraine, which has led to more than 600 civilians being killed and more than three million fleeing their homes to seek refuge, two College HUNKS Hauling Junk and Moving franchisees decided they needed to figure out a way to help.
Ted Panebianco and Steven Nickels, co-owners of the College HUNKS' flagship New York location on Long Island, connected with local leaders and banded together to collect donations for the Long Island-Ukrainian Emergency Response Drive, delivering four 20-foot moving trucks full of medical supplies, essential needs and body armor to Ukrainians fighting for their freedom last week.
Errol Toulon, Jr., Suffolk County Sheriff, donated about 450 pieces of bulletproof body armor. Also leading the charge was Dr. David Buchin, the Director of Bariatric Surgery at Huntington Hospital, who is an immigrant from the former Soviet bloc nation Uzbekistan.
The College HUNKS team delivered the truckloads of donations to a processing center at the Ukraine Coalition in Manhattan, New York. While loading up the items, the HUNKS team had the opportunity to "hear their personal stories and to feel their emotions when they spoke, when they embraced us and when they cried with us," Panebianco recalled.
"They were so thankful for our help and our support, and we were so grateful to be able to offer it. The work they are doing here and the resilience of the people in Ukraine is overwhelmingly inspirational, and having the opportunity to help in their efforts meant a lot to our entire team."
Once the items are sorted in Manhattan, they'll go to a port in New Jersey and then on to Poland. From there, the supplies will be delivered "to the appropriate people and organizations in Ukraine," Panebianco explained.
The College HUNKS brand has become known for giving back and making positive impacts on local communities, Panebianco added, including their nationwide program that donates two meals per every job completed and the company's no-cost moves to domestic violence survivors stuck at home during the pandemic with their abusers.
"Our Company purpose is to move the world, both physically and emotionally. We all understand that we are a part of something bigger than ourselves at College HUNKS and we were grateful for the opportunity to help and live our purpose," Panebianco added. "The opportunity to help during this humanitarian crisis in Ukraine allows us to move the world in a bigger and more global way than ever before."
In another example of a franchise owner taking action to help, Michael Neal of Big Frog Custom T-Shirts & More in Colleyville, Texas, is donating $15 for each $20 "I Stand With Ukraine" shirt sold to Allies in Youth Development, a nonprofit which provides assistance to orphans and chicken in Ukraine and Europe.
Stay tuned for more Franchise Times coverage on how franchise brands are responding to the Ukraine-Russia crisis.