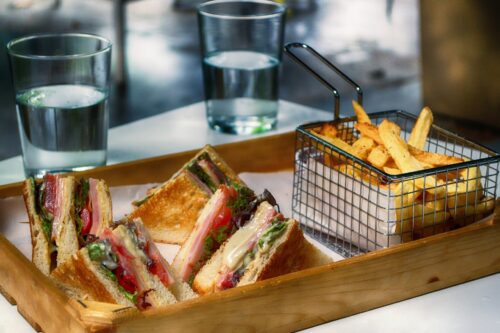 As a family of 6, we don't dine out often – fast food or restaurants. Before we moved, we were dining out once per month at a restaurant. It was always scheduled on a Wednesday to avoid crowds, always something we looked forward to. I understand this isn't common. Most families have two working parents and when Chris and I were both working, we definitely went out more…mostly due to lack of energy.
Lately, we've been swinging by fast food once per week. I hate the expense and I hate how unhealthy it is but when I'm working long days in the office and Chris is working on renovating the house while homeschooling, we just don't have time to make a meal every day. We meal prep on Sunday's but even then, it seems like we are consistently missing cooking at least once.
I was beating myself up about it a bit while budgeting this month. We spent over $200 on fast food which is WAY over our usual. I had to steal from other categories to cover the shortage. It got me curious to see what other folks are doing. Did you know that the average American eats out 5.9 times per week!?!? People in Texas spend $2,656 per year, on average, on dining out. Holy moly friends! How on earth can people afford that?!?
Here's the thing, for a moment, I thought, "Sweet, I'm normal. I've got nothing to worry about." WRONG! The average American also carries credit card debt, has car loans, has very little in savings, isn't prepared for retirement, and isn't prepared for an emergency.
Don't be average. Don't be normal. Be better.
We've probably got a couple more months of elevated spend and the reality is, that's life. There needs to be flexibility. BUT, don't let these blips be permanent. Don't accept this as your new normal. Don't be normal. Be better.
The post How Often Do You Visit McDonald's?!?! appeared first on Blogging Away Debt.