Guess what your customers want to do on their birthday? They want to treat themselves! Translation? They want to spend more on themselves. This is where the "Birthday Campaign" comes in.
In this quick article, I'm going to give you everything you need to run this simple campaign — no matter what type of business you run.
Why run birthday marketing campaigns
Your customers don't know about all the cool things you sell. And that's the main reason to run birthday campaigns. I like to call this a "Birthday Bonus Campaign" for exactly that reason.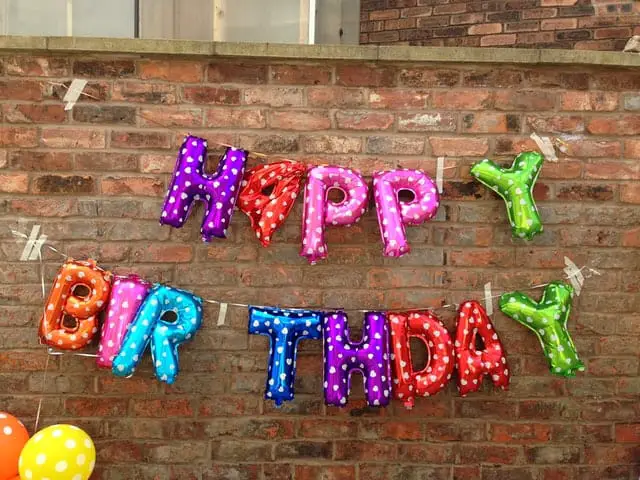 A birthday bonus campaign it's a great way to give your customers a free gift that is related to something that they are already buying. It's like an "if you like this, then you'll love that" idea.
Not only that, but birthday marketing campaigns are the perfect opportunity to show them how much you appreciate them and it's just plain fun to celebrate with your customer.
What you need to get started
Here's what you're going to need to create your very own Birthday Bonus Campaign.
A list of customers with their birthdays. If you don't have their birthdays, you can collect them via Facebook, you can simply start asking customers either via email, a phone call or the next time they come in. If you have an in-person business such as retail or restaurant, you can also have them show proof that it's their birthday with a driver's license.
Other customer contact information. At the
An offer or discount that includes a product or service you want to feature as a complementary purchase. You'll have to be familiar with your customers, what they purchase and what they should purchase but don't.
A way to track results. This will vary depending on your business. I'd recommend that you use your CRM to track these campaigns.
How to set up your campaign goals
Your first goal needs to be to choose a product or service that your customers should be buying but aren't. This product or service should ALSO be high profit for you (in other words, cheap and easy for you and high value to your customer)
Select a group of customers for whom this is a good fit. If you have an email list or CRM that has listings of the products or services that customers buy, you'll be able to pull that list and put them inside of a segment. You can "tag" them as "2022 Birthday Bonus Campaign"
Set a goal for how many of those customers you want to take you up on your offer.
Let's Create Your "Birthday Bonus" Campaign
Email marketing is the best and most effective way to connect with your customers.
Birthday Email Campaign
I'm going to keep this birthday email campaign super-simple. I'm NOT going to push you to send birthday emails every day. You can do that, but let's start simple.
Each month, you're going to run this "Birthday Bonus" campaign for those customers that have birthdays during that month.
You'll want to send 4 emails each month; one email each week.
Birthday Email Week 1: At the beginning of the month send a birthday email to each of your customers having a birthday that month.
Make sure to tell them a story of WHY you are doing this. Maybe you just had a birthday and nobody noticed. And this made you feel forgotten and unappreciated. And that you didn't want ANYONE else to feel that way.
Maybe include a picture of yourself with a sad face. You can also insert a gif. Pretend that you're writing to a friend.
Tell them that you're going to be celebrating all month long. Insert what they are purchasing from you and then tell them that you're giving them a "BIrthday Bonus" featuring the product or service you identified that you're going to feature either that year.
Tell them that you're giving them either a free product or service or a sample (trial access) to that product or service until the end of the month and that you hope that they'll give it a try.
Also tell them that they can reach out to you any time with any questions or help they might need. You can go further and say that you'll check in with them.
Birthday Email Week 2: Remind them that they have access to this awesome product or service.
Tell them that if they like it, they can get it at a discount for a specific period of time.
You can also give them the option to purchase a set amount of this product or service at a discount.
Remind them that the deal is going away and you don't want them to miss out.
OH — and ask them to reply to this email if this "gift" or Birthday Bonus is a bad match and they don't need or want it. This is critical information for you.
Birthday Email Week 3: Tell them that their birthday month is almost over. Remind then to take advantage of the offer and if they don't like the offer to PLEASE call and let you know. Maybe they want something else. Find out what that is.
Birthday Email Week 4: This is the time to remind them to keep celebrating. Don't forget to make this personal and bring your personal experiences and stories into this email. You can even be a little "selfish" about it, and tell them that you want them to think of you every time they use this product or service. (Tongue in cheek).
Remind them that the offer is ending and that they'll have to wait until their next birthday to get a deal like this.
Most marketing automation tools will have a birthday email feature. Here's an article that explains how MailChimp does it.
Direct Mail Birthday Bonus
Email is a little faster, easier and cheaper. BUT snail mail can be insanely more powerful – especially if you do this.
Send your customers an actual letter in a regular business envelope. Write them a nice birthday message and include a gift card or promo code for access to a complementing product or service.
This is powerful because these customers will be blown away by your generosity, they will try this new thing you want them to try and — here's the best part, they can share it with a friend.
How to Collect Customer's Birthdays
I know what's stopping you, you probably don't have "birthday" data. If you like the sound of this campaign, then take the time to collect that data.
Send an email and tell them that you have a gift for them for their birthday and you want them to respond with their birthday.
Create a form using your marketing automation tool and ask them to fill it out.
You can look up your customers on Facebook to see if it shows their birthday.
Call your customers and ask for their birthday.
Now that you've seen this, I hope that you're inspired to collect emails and birthdays from your customers.
The process of running a "Birthday Bonus" campaign is an effective way to introduce existing customers to products and services you offer that they didn't know about. This can help them discover new things from your store, which in turn may lead to more sales. If you follow these steps, it will be easy for you too!