Hulu's star-studded mystery/comedy series, Only Murders in the Building, was one of 2021 biggest streaming hits, with critics and audiences alike tuning in to see whodunit.
The show's silly approach to true crime obsessives is at once hilarious and insightful, thanks in large part to its extremely charming central trio — played by legendary comedians Steve Martin and Martin Short, joined by singer/actress Selena Gomez.
OMITB follows the three main characters — who all share an obsession with a true crime podcast — as they set out to investigate a suspicious death in their affluent Upper West Side apartment building, the Arconia.
Whether you're just a few episodes in or you binged the entire season in a day (guilty), I'll bet one of the many things you love about Only Murders In The Building is, well, the building!
That stunning, palatial limestone structure had me hooked from the very start too so it'll come as no surprise I started googling it within minutes of pressing play.
Is the Arconia a real building?
So, first thing's first, is the Arconia building? Kinda.
The building from OMITB does exist in real life but it's a luxury 13-story condominium in the heart of Manhattan's Upper West Side called The Belnord.
And yes, it's every bit as grand as it appears on the show, boasting gilded wrought-iron gates at the entrance, six lobbies, and a private residential elevator to access the apartments.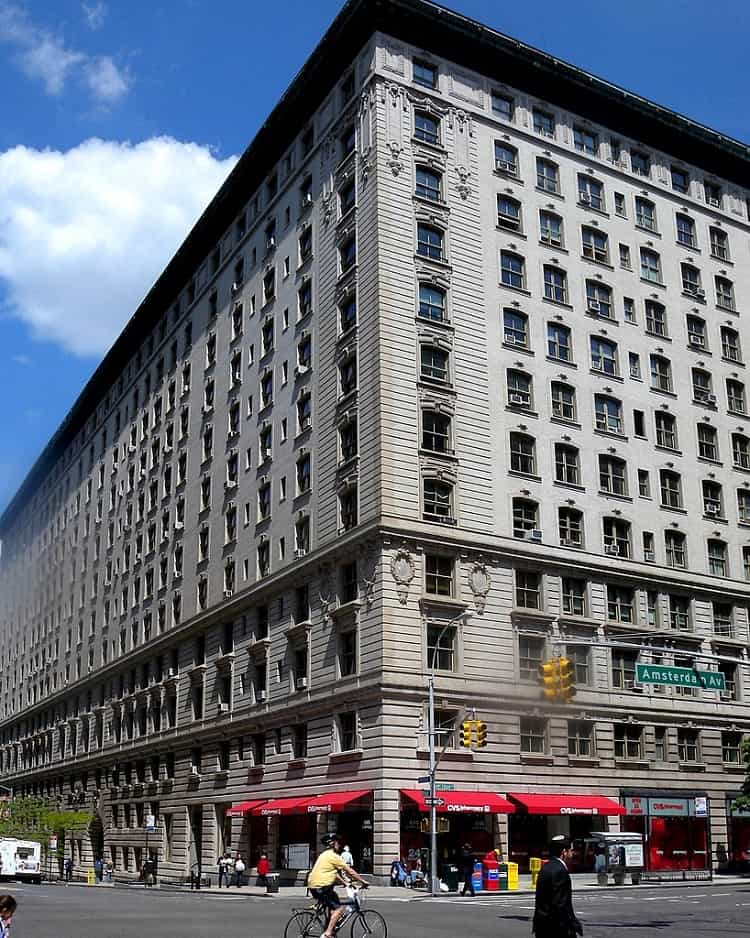 The luxury pre-war building is one of the grandest of the Upper West Side apartment complexes.
Rising 13 stories tall on a highly desirable location (an entire block bounded by West 86th and 87th Streets, Amsterdam Avenue and Broadway), the Belnord is a New York City Landmark, added to the National Register of Historic Places in 1980.
Dating back to 1908, the building features Italian Renaissance style decorative elements and comes with two massive grand archways that provide entrance to an inner courtyard (easily recognizable to Only Murders in the Building fans).
The courtyard itself is said to be among the largest in the entire city of New York!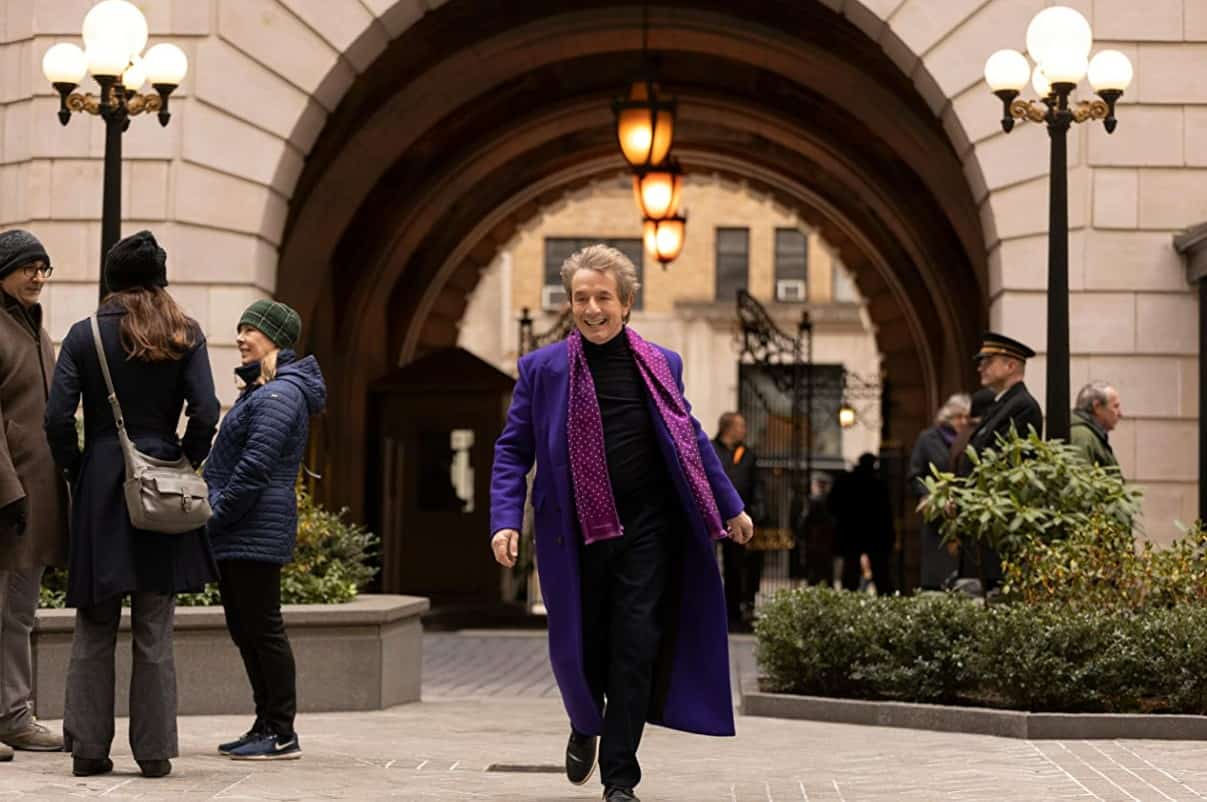 As for the building, it was recently converted and re-imagined to feature 95 perfectly appointed residences ranging from two- to five-bedrooms, with world-renowned architecture firm Robert A.M. Stern Architects overseeing the conversion.
The Belnord building (which occupies an entire block!) was used for all exterior shots of the Arconia, plus the courtyard and elevator scenes.
But what about Mabel, Charles, and Oliver's apartments?
Do the Apartments from 'Only Murders in the Building' Exist in Real Life?
Unfortunately, we won't be seeing any of these homes on Zillow any time soon.
All scenes that take place inside the apartments at the Arconia were filmed on sets created especially for the show.
That said, your dreams of crime-solving from within your very own luxury Upper West Side apartment could still come true… if you have a few million dollars to spare, that is. 
There are quite a few apartments at the Belnord that are currently for sale, but prices at the Arconia building's real-life counterpart range from $4 to almost $12 million dollars!
'The who, the how, the why, and the why not'
As it turns out, designing and creating apartments for each character's apartment was a huge team effort.
Writer, co-creator, and producer John Hoffman (Grace & Frankie, Looking) and production designer Curt Beech (BlacKkKlansman, She's Gotta Have It, Hunters) worked together to nail the interiors of Mabel's, Charles', and Oliver's homes.
Interestingly enough, members of the cast also made suggestions on how the spaces could help reflect their characters better.
Steve Martin suggested they hang pieces by the artist Saul Steinberg in the apartment as he thought it was something Charles would like. He was right — you'll spot one in his bedroom!
Beech also explained, in a behind-the-scenes featurette with Hulu, that every room in each apartment was carefully designed to reflect each character's individual personalities and histories. On closer inspection, the attention to detail is incredible!
Mabel's (aunts) apartment
As Mabel begins the series as something of an enigma, so does her apartment.
Unlike Charles and Oliver's places which have been meticulously designed and refined over decades, hers is messy, raw, and lacking clarity in the process of remodeling. A perfect, and very clever, reflection of her character who's a work in progress herself.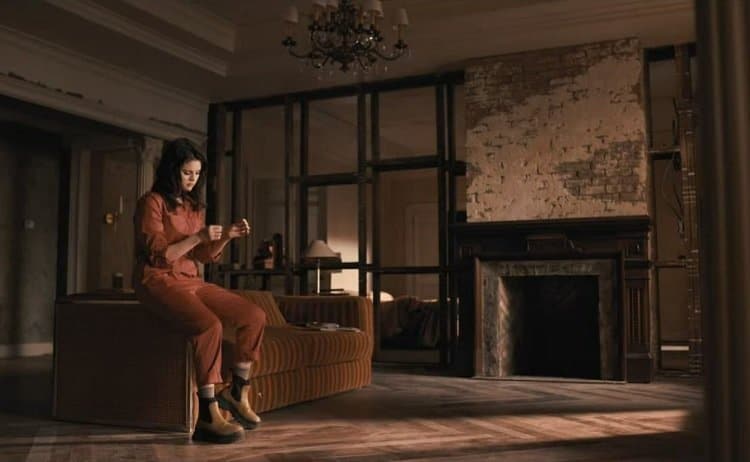 The Mexican textile drapes left behind by Mabel's aunt are a subtle nod to her heritage.
Meanwhile, we see hints of her artistic side through frame-less sketches hung on the walls and a knitting basket by the bed.
I'm also in love with the random injections of bright colors like the pink tiled bathroom, pastel scatter cushions and stripey yellow couch. All of which mimic Mabel's most striking outfit choices near the beginning of the series.
Fun fact, in an interview with The Spruce, Curt Beech revealed that the seemingly old and battered striped sofa in Mabel's living room was the most expensive piece of furniture purchased for the show!
Charles' apartment
Inspired by a smartly striped Paul Smith fabric (you'll spot it on Charles' sofa), Beech designed the rest of the apartment to complement its color palette.
In the kitchen, that means turquoise green cabinets and deep orange walls. In the living room, its dark brown furniture and cobalt blue cabinetry accented with bright décor pieces, statement lighting, and countless coveted artworks.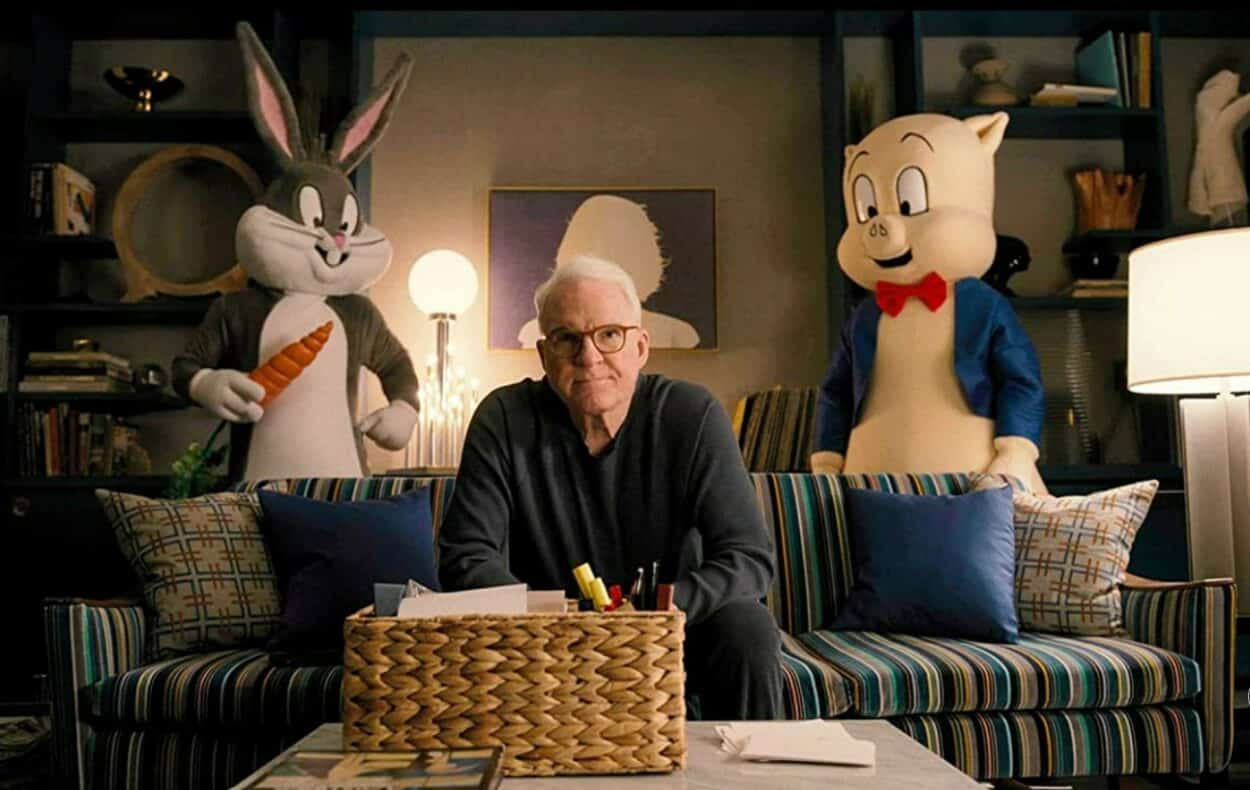 Keen art collectors will notice pieces by Josef Albers, Ed Ruscha, and Alex Katz. The design is thoughtful and smart, bright and welcoming — a lot like Charles!
As for the boxed-out ceiling beams, archways, and any other non-original architectural details in the home, the team designed these with the idea that Charles invested in them a few decades earlier. Right around the time he was making the majority of his money starring in the '90s detective series, Brazzos.
Oliver's apartment
A performer through and through, no apartment in OMITB mirrors its resident's personality quite as well as Oliver Putnam's does.
Stepping inside Oliver's home is like entering the foyer of a classic Broadway theatre. Rich colors, plush textiles, dramatic jewel-toned drapes, and even a small stage make up the living space.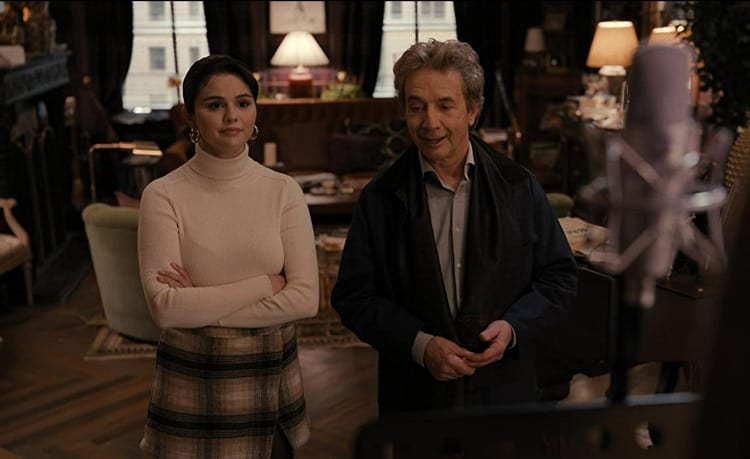 Meanwhile, his office overflows with books and theatre scripts housed in deep mahogany bookcases. And yes, even these have a story!
Since Curt Beech and set decorator Rich Murray were both theatre students, they were able to bring in personal items to make Oliver's apartment even more authentic. Many of the theatre books are from Murray's personal library whereas the theatrical models belong to Beech.
One of the coolest design elements I came across can be found in Oliver's dining area.
Created by a team of painters, the wallpaper in this room depicts the grand interior of La Scala Opera House in Milan. The idea was that since Oliver always pitches here, surrounded by these images, he would always be on stage.
Random facts to die for
Steve Martin came up with the idea for OMITB ten years ago. He had envisioned a series about three old men living in the same New York apartment building who discover they share a common interest in solving crime. Being older, they find going outside too tiring so they decide they'll work on solving, you guessed it, only murders in the building. 
At an eye-wateringly expansive 22,000 square feet, the Belnord courtyard featured in OMITB was the largest apartment complex courtyard in the world when it first opened back in 1908.
Scenes in the lobby and on the rooftop were filmed at yet another luxurious turn of the century building found at 270 Riverside Drive known for its breathtaking views of the Hudson River.
If you fancy heading to the outrageously opulent theatre featured in episode three, 'How Well Do You Know Your Neighbors?', you'll find it at 4140 Broadway, NY. The United Palace has also featured in The Politician, John Wick 3, and Marvel's Luke Cage.
Alternatively, lovers of more modern structures might prefer a trip to the Lincoln Center where Jan (Amy Ryan) was supposed to play first chair bassoon.
More stories you might like
Unveiling the Mystery Behind the Sprawling Thrombey Mansion From Knives Out
The Downton Abbey House is Real – And You Can Go Tour the Castle
Is it Real? The Mansion in American Horror Story: Murder House
A Closer Look at Booth and Brennan's Two Perfect Family Homes on 'Bones'