We built The Hub by GoDaddy Pro to streamline workflows and shave time off tasks that typically eat up a workday.
But we aren't done yet.
March 2022 Hub update
You can keep track of our progress here, as we regularly publish our updates to this platform custom made for web designers and developers.
Client notes
When you're managing a large stable of clients, it helps to have reminders. What type of business are they operating, and do you have their brand colors handy? You can now add client notes in The Hub, which display prominently in the sidebar on that client's screen.
Keep an eye on this feature, as we plan to continue building out this workstream to keep track of clients' activity.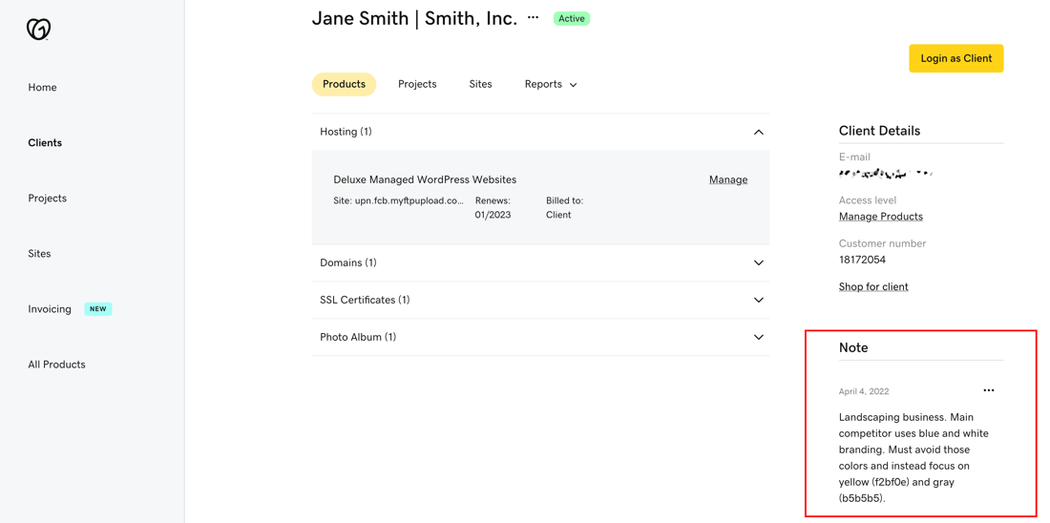 Client lead tracking
When it's time to follow up on leads, avoid patting your pockets or scrolling through contacts. You can now add potential clients to The Hub as a lead, letting you store their contact information and other important details. Once they become clients, simple toggle them as Active, while your other prospects remain Leads.
---
Start taking back your day
We built the Hub by GoDaddy Pro to save you time. Lots of time. Our members report saving an average three hours each month for every client website they maintain. Are you ready to take back that kind of time?