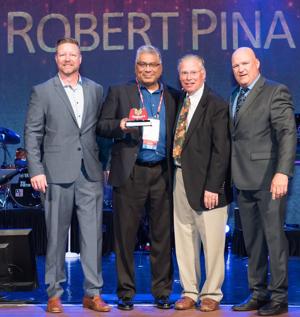 Marco's Pizza franchisee Robert Pina said his restaurants have been "really blessed with some great numbers" over the last two years and the timing is right to expand to a new market.
Pina, an area representative who oversees development in Houston and San Antonio with business partner Uyen Tran, signed a 46-unit agreement to open Marco's in the Phoenix metro. Of the 67 stores in his Texas markets, Pina owns 20 of them and said he'll build all 46 restaurants over the next six years under his new agreement.  
Like many operators in the pizza segment, Pina said his stores had strong sales growth through the COVID-19 pandemic as consumers turned to takeout and delivery options. Whether or not the "COVID bump" in sales would continue as business restrictions lifted "was the big question," he said. "And for us, it's staying. It's making us all very happy."
As a system, average unit sales from franchised Marco's Pizza restaurants hit $838,147 in 2020, up from $725,994 in 2019; the AUV for the top 50 percent of franchise locations was $1,059,571 in 2020.
There's plenty of white space for Marco's in the Phoenix area, noted Pina, as the brand has only one location nearby, in Mesa. The metro's population growth was also attractive.
Phoenix's population grew from 1.4 million people in 2010 to 1.6 million in 2020, a rate of 11.2 percent, according to the U.S. Census Bureau. That made it the fastest-growing big city in the country. The growth of his Marco's unit count also means more opportunities for Pina's employees, as he said he'll draw on talent from his existing team to support the new openings.
Pina is now on the hunt for real estate and said he will "take a deep dive into choosing the first location in the next 30 days." Virtual kitchens could play a role in his Phoenix development if the right opportunity presents itself, he said. Pina has two virtual kitchen locations in Houston as he was among the first franchisees to test drive the model for Marco's Pizza.
The cost to open a Marco's Pizza restaurant ranges from $183,408 to $552,713.
Related: Long-term Outlook Fuels Acceleration of Innovation at Marco's Pizza