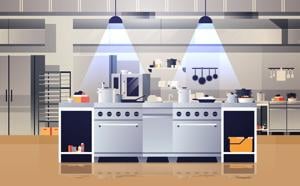 Two new partnerships show the franchised restaurant world is still eager to expand in the delivery-focused segment of ghost kitchens.
Qdoba is partnering with Reef to develop 25 locations with ghost kitchen operator Reef. WoWorks, the parent of Saladworks, Furtta Bowls, Garbanzo Mediterranean and The Simple Greek, is rolling out 20 Saladworks locations with Combo Kitchen.
Both companies have a different strategy and different goals with their ghost kitchen projects. For WoWorks CEO Kelly Roddy, it's about giving customers more options to get healthy food. That's one of the key focal points for this project, one of several ghost-kitchen experiments the company has taken on, the modern consumer is very vocal about getting food "when I want it an where I want it," said Roddy. "Ghost kitchens really help with that, they're usually open longer hours so people can get it when they want it and they deliver, so that's where I want it. at home, the office or in the park."
He said challenges in earlier tests helped him zero in on the partnership with Combo Kitchens, a franchise itself. A dark Saladworks, for example, didn't quite make ends meet.
"We didn't do very well originally; we didn't realize that you needed multiple brands. We did a single kitchen with a brand and it wasn't busy enough," said Roddy. "We learned that you can put more products and more brands in the space and it becomes a lot more productive. Then it's finding the partners who operate well and have the right technology."
Under the partnership, Saladworks licenses the concept to Combo Kitchens and the latter makes the food, operates the facilities and the labor. It's much like a non-traditional partnership with a large facilities player like Sodexo or Aramark. Roddy said it's a little more hands-on than those traditional partnerships, and that's a good thing.
"We have calls with them every week, we talk about how do we improve operations and menu mix. There a weekly strategy meeting with them and they take it very serious," said Roddy. "We just work on something every week, that makes you better."
The ghost locations also help extend the brand into more food deserts and help get healthy food to more people. That's a key goal for Roddy and WoWorks and he can do it with much reduced capital expenditure and much faster. He expects to open all 20 locations in Central Florida in about 30 days.
For Qdoba CDO Jim Sullivan, the ghost kitchen strategy is all about leveraging the strong brand recognition. The company is a little earlier in the process though, and Sullivan said this is most definitely a pilot project with Reef. The fast-growth ghost kitchen operator creates food out of "vessels," essentially a shipping-container sized kitchen that the company plants in a parking lot. The company happens to own more parking lots in the U.S. than anyone, offering a fertile foundation for off-premises kitchens. Partnerships with Reef are also a lot like a traditional licensing deal, the concept trains Reef trainers and Reef staff executes the brand.
For Qdoba, it's a three-prong approach to see how the ghost kitchens perform in three different market situations.
"We went in with a three-market pilot to test and learn with Reef before we expand," said Sullivan, who took over as chief development officer in June.
The Reef locations will be in Seattle, a heavily-penetrated, corporate-controlled market. They will also go into Austin, where the brand doesn't have existing restaurants, but a good Mexican fast casual market.
"Then Atlanta, a market where we have restaurants but are under penetrated, so we want to see how we partner with Reef to raise that level of awareness," said Sullivan.
Once all the locations are up and running, ideally this year for Sullivan he can see how things work. He's measuring a lot, but two things stand out as especially important.
"You got to look at sales, what these vessels are doing. For us, success will also be the guest experience," said Sullivan. "It's our food being served at our standards. Success there will be people seeing that this is a Qdoba food and it doesn't matter where it's coming from."
He's also eager to see what cannibalization looks like in the corporate market of Seattle before he thinks about partnering with Reef close to franchisee locations.
Assuming the project goes well, Sullivan said he envisions 200 to 300 locations and more potential overseas.