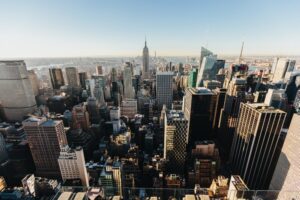 After five straight weeks of increases, many real estate investors were hoping mortgage rates had neared their peak and the market would stabilize. However, that hope was dashed with the failure of Silicon Valley and Signature banks and the prospect of another Federal Reserve rate hike. The one stable bright spot might be REITs investing in sale-leaseback acquisitions.
The past year has been a bumpy one for small real estate investors. In the residential market, Interest rates have driven prices beyond the reach of many buyers. The commercial market has been turned on its ear by a work-from-home trend.
Through all the turmoil, leaseback real estate transactions have been on a steady rise.
Leaseback sales set a record in 2022. There were 874 transactions last year for a total value of $31.4 billion, according to SLB Capital Advisors. The year before, transactions totaled 789. The previous record for dollar value was $27.6 billion set in 2019.
What is a Sale-Leaseback
Sale-leaseback agreements allow property owners to sell their real estate to free up equity. Buyers get ownership of the property. However, in a wrinkle unique to the practice, the selling company signs a long-term lease. Hence the name – sale-leaseback.
What Sellers Get
Sellers use sale-leaseback agreements to raise cash that they pour back into the business, pay down debt or invest in an additional location. Of course, a mortgage would also raise money – just not as much.
A mortgage typically would net the owner under 70 percent of the property's value. A sale-leaseback gives the seller full value.
What Buyers Get
The appeal for buyers in a sale-leaseback deal is ownership of the property. Plus they collect lease payments typically for 15 to 20 years.
In addition to cash flow, most sale-leaseback agreements are triple net leases. That means the seller agrees to pay property expenses including maintenance, taxes, insurance, and utilities.
What is a REIT
Many large institutional investors operate in the sale-leaseback market. However, through a Real Estate Investment Trust (REIT), smaller investors can get involved.
REITs are traded on stock markets. One of the appeals of the largest REITs is their history of issuing dividends. Here are a few REITs that focus on sale-leaseback.
Players
Realty Income Corporation (0)
This company calls itself "the dividend company". It lived up to the title last week when its board of directors issued its 120th dividend since being listed on the New York Stock Exchange in 1994. However, it was the 633rd paid out since the company's founding in 1969.
Most of the 12,200 properties owned by Realty Income are commercial ventures operating on triple net leases.
W. P. Carey (WPC)
Operating in 26 countries across North America and Western Europe, WPC currently owns 1,449 properties. Almost all are commercial, industrial, and retail assets with triple net leases. It also issued a dividend earlier this week.
Boasting a 98.8 percent occupancy rate, WPC reports that 99 percent of its leases have built-in rent increases.
National Retail Properties (NNN)
With over 3,300 properties in 48 states, National Retail Properties invests primarily in high-end retail properties. The vast majority are under long-term triple net leases.
It has maintained a 99.4 per occupancy rate for the last two years. It also issued a dividend earlier this year, the 33rd time it has done so.
Read More:
Come back to what you love! Dollardig.com is the most reliable cashback site on the web. Just sign up, click, shop, and get full cash back!