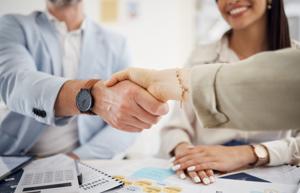 When Dan Rowe is evaluating a potential franchise brand partnership, the CEO of franchise development firm Fransmart puts return on investment at the top of the list. 
"The ROI must be good," said Rowe. "I'm looking for concepts that generate enough cash that franchisees want to reinvest."
Rowe was part of a panel discussion November 14 during the Restaurant Finance & Development Conference focused on building franchise systems that benefit the franchisor and also equip franchisees for success. Moderated by Dennis Monroe of Monroe Moxness Berg, Rowe was joined by Aziz Hashim, managing partner of NRD Capital, and Guillermo Perales, CEO of Sun Holdings.
Beyond ROI, Rowe said for brands early in their lifecycle he's also looking for scalability, something Hashim and Perales likewise highlighted. 
Hashim, whose company owns restaurant chain Frisch's Big Boy among other investments, noted franchisees need to keep their own ROI in mind. Their investment and acknowledging the risk they take is paramount in forming a partnership, he said. 
Rowe emphasized a business partnership should be exactly that. "The best partnerships are the investments that truly treat each other like partners and they're invested in each other's success," he said.
Hashim also touched on the franchise model itself, which he said hasn't changed since his grandfather's time and, in some ways, probably should.
"At its core, the franchise business model is diametrically opposed," said Hashim, also a former multi-unit franchisee who before launching NRD operated units in brands such as Popeyes, Domino's and Checkers. "Franchisor makes money on the top line; franchisee makes money on the bottom."
An example Hashim pointed to was royalties. Royalties are largely static, usually between 4 and 10 percent. Hashim proposed that marketing and royalty fees could be incremental depending on the market and store performance instead of a set percentage. Franchisees on the lower end of the revenue spectrum could be charged lower fees, which would allow them to keep investing in the business as they ramp up. 
Hashim specifically compared franchising to buying a house or a car. People don't expect to invest the same amount or more in that purchase just a couple years later, and it shouldn't be the same in franchising. Instead, Hashim argued that being a partner in business means supporting each other in the name of success.
"If you've never been on the other side, you can never really fully understand the other side's point of view," Hashim said. "So, I think one of the biggest things we learned is that there's a spectrum of franchisees and, you know, you have to deal with all of them."