FinTech FWD a virtual Trend Forum about Caribbean Trends and Business Opportunities To Watch in the Fintech Sector staged by us at SiliconCaribe in partnership with Microsoft and Caribbean Blockchain Alliance is set for Wednesday, April 20th, 2022, 10 am EST – 11:30 am EST/ Jamaica Time.
The event will give Caribbean Executives and Entrepreneurs trends, data, and perspectives from local and international experts and entrepreneurs to help them make smarter business decisions in 2022 for them to understand and get insight into the next big things.
Fintech, is the technology, and innovation that aims to compete with traditional financial methods in the delivery of financial services and there is a lot going on globally and in the Caribbean Region.
Registration is now open. Click here to secure your space!
Speakers and special features will be announced to registrants over the next couple of weeks.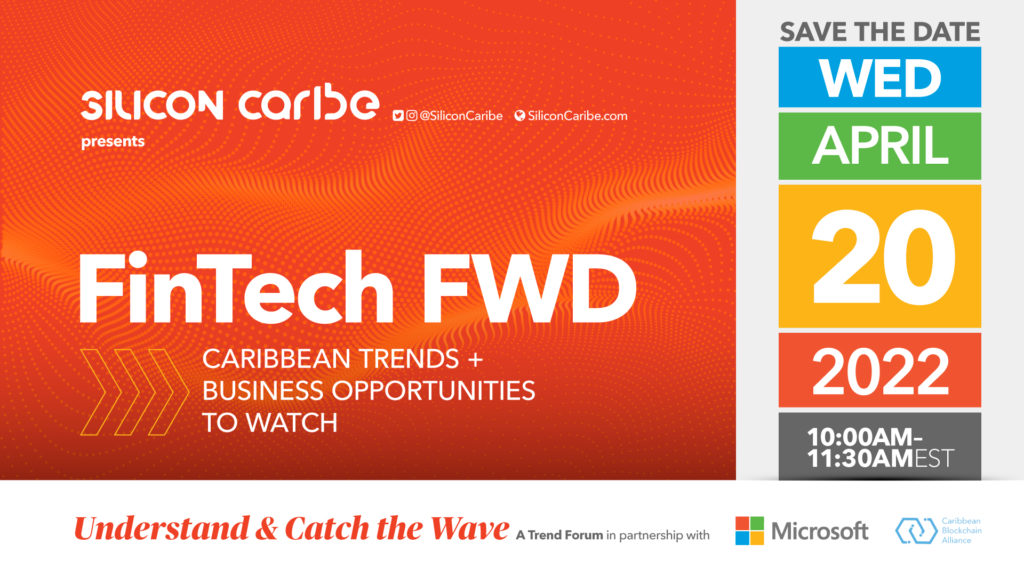 Why are we doing this?
The COVID-19 pandemic sparked expansion and adoption of digital financial services, especially in emerging markets like the Caribbean.  In the absence of physical contacts, consumers relied on virtual financial services to access and disburse funds and fintech solutions came through. Well…sorta.
Before the pandemic, it was already known that access to affordable financial services is critical for poverty reduction and economic growth. For poor people, and especially women, access to and use of basic financial services can raise incomes, increase resilience, and improve their lives. Fintech innovations are helping reduce the cost of providing services, making it possible to reach more people, and reducing the need for face-to-face interactions, essential for keeping up economic activity during the pandemic. Source: The World Bank.
Then enters Blockchain, Crypto, and more financial technologies.
So now, with the first quarter of 2022 just done, what's the true state of Caribbean Fintech & Crypto – given level of digital adoption by consumers, the state of Caribbean Bank Offerings, the mindset of innovators, the market plays by key businesses in the Caribbean marketplace and the position of Caribbean governments?
FinTech FWD Event is the place to understand, anticipate what's next!
"Covid-19 is accelerating change in how people interact with financial services, which has led to unprecedented demand from developing countries to progress their transition to secure and inclusive digital finance. "
– James Duddridge MP, the UK's Minister for Africa at the Foreign, Commonwealth & Development Office (FCDO). "
"Fintech has shown its potential to close gaps in the delivery of financial services to households and firms in emerging markets and developing economies,"
–  Caroline Freund, World Bank Global Director for Finance, Competitiveness, and Innovation.