Dropshipping offers unique business opportunities for ecommerce sellers. With its low costs and streamlined operations, businesses have the ability to sell products that would otherwise be difficult following a traditional ecommerce model — a great reason to explore WooCommerce dropshipping.
WooCommerce is a powerful platform for creating a dropshipping business that is scalable and easy to manage. In this post, we will examine how you can set up your WooCommerce shop to dropship your products directly to customers.
What are the benefits of using dropshipping?
Dropshipping is a fulfillment method in which you do not source your products until after a customer places an order. Instead of holding inventory of your items, you connect with suppliers that ship products directly to customers.
This fulfillment method simplifies the process of launching and running an ecommerce store because you don't need to worry about many of the processes typically present with order fulfillment.
Here are some the biggest benefits to employ a dropshipping strategy for your business:
Less capital required and lower overhead
Businesses that use dropshipping do not need to invest as much capital (or any) to acquire inventory. You also don't have to establish a location to store your goods. Without inventory on hand, you don't have to spend time organizing your products or hiring staff to handle orders. Because of this, the business model has low barriers of entry.
With more cash on hand, you also have the ability to spend more on advertisements and other costs necessary to run a traditional retail operation.
Can stock larger catalog
Dropshipping gives you more options for rounding out your product assortment. Because you don't have to pay for the products, you add a wider range of goods to your store. With a traditional sourcing method, this luxury is not as readily available to you as you run the risk of wasted capital if the items do not sell.
Faster scaling
A dropshipping business can scale rapidly because order fulfillment is not limited based on the size of your warehouse or the number of workers needed to ship products. This also helps retailers that experience fluctuating sales due to seasonality and other factors.
What do you need for an efficient dropshipping store?
Automated ordering from suppliers
While your suppliers will handle the burdensome parts of fulfilling orders, you will still need to pass along all the essential details for each purchase. This won't be an issue if you only have a few orders.
However, the time involved can quickly add up the busier your business gets.
An effective way to alleviate this problem is to use a dropshipping platform that allows for automated order processing. With this feature, any order placed on your site will automatically be passed to your supplier. The details will include the order items along with the customer's shipping details.
Real-time inventory sync
Inventory management isn't as direct when you dropship your products. Because the supplier stores the products, you do not have direct insight into how many items are on hand at a single time. You want to implement real-time inventory syncing to ensure that you do not sell goods that are out of stock.
Real-time shipping rates
If you use multiple suppliers, real-time shipping rates can help ensure that you always accurately price your shipping costs. Suppliers will have different business locations and thus will vary in their distance from customers.
Because of this, you will need to pay different shipping costs for each of your orders. With real-time shipping rates, you will always price shipping appropriately so that you do not lose profit to deliver your products.
Plugins to set up a WooCommerce dropshipping store
There are countless plugins you can use for implementing dropship products into your WooCommerce store. Many of these focus on items available through international suppliers.
Given the shipping inefficiencies and often low product quality that comes with using these suppliers, I recommend sticking to platforms that let you connect with domestic suppliers. This way customers get to enjoy normal shipping times for their items instead of having to wait three weeks for a simple order to arrive from China.
Below we will look at two of the best platforms for WooCommerce dropshipping.
Wholesale2B
Wholesale2B is a dropshipping directory platform that connects ecommerce sellers with US-based dropshipping suppliers. You can use it to import products from a vast catalog directly to your site.
With the platform, you can find items in a wide range of categories including apparel, furniture, jewelry, home goods, and accessories. There are over 90 suppliers and millions of items, most with delivery times under five days.
A major advantage to using the platform is the ability to use domestic suppliers without having a reseller account as Wholesale2B essentially serves as a middleman so that you do not need to as a reseller.
This can save you time and free you from having to jump through administrative hurdles for each of your suppliers. The platform will also handle returns from your customers.
To start using the platform, go to WooCommerce > Plugins to download the extension. Search for "Wholesale2B".
Assuming you are new to the platform, select Click Here to Get Your 7-Day Free Trial. This will take you to the Wholesale2B site where you can create an account and set up your WooCommerce integration.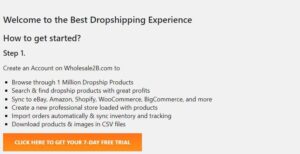 Adding products to WooCommerce list
After you install the WooCommerce App, the next step is to add your items to the list. The platform will then push your selection back to WordPress.
There are two ways that you can add products, either in bulk or individually. To add products in bulk, start from the dashboard and select Supplier Directory.

You can then search until you find your desired supplier. When you see an interesting supplier, you can click into their descriptions tabs to learn more about the company including their contact details, cancellation rate and return policy.

To add all the products from the supplier click List. If you add items in bulk you have the option to apply a price filter only show items within a certain range
In many cases, you will want to choose the specific products for your store. To browse the supplier's products click the numerical value in the Products column.

This will take you to a list of the different categories. There is also a search bar that you can use to find a particular item

Clicking a category will take you to a list of nested categories. This page also includes additional filters for refining your selection.

After you have drilled all the way down, you will see a curation of any products that match the criteria.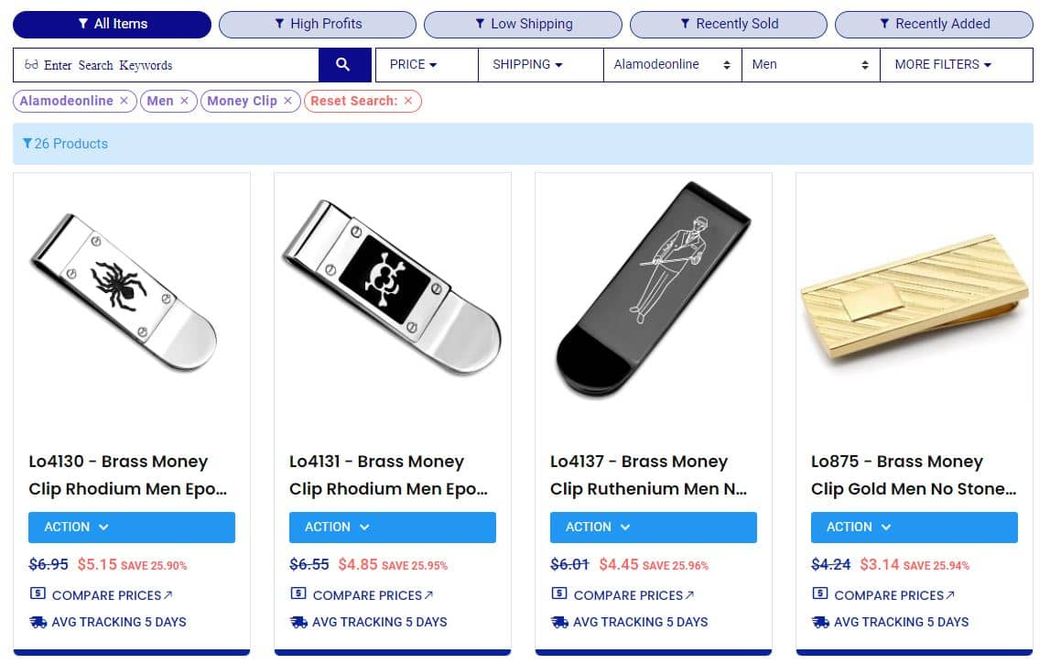 To add a product, click the Action dropdown. Then, select Add to List.
Over the course of your business, you will likely need to make changes to your products. If you do, keep in mind that Wholesale2B does not provide a way product sync with WooCommerce dropshipping. Any changes will need to be made from the Wholesale2B platform. Changes made in WooCommerce will eventually be overridden.
Mapping categories to your store
When you add the products to your store, the plugin will default to assigning the same categories used by the supplier. This may work in some cases, but for many sellers, you will use different categories than your supplier.
With the category mapping feature, you can match the supplier's categories to your WooCommerce categories to ensure that all items are properly classified immediately upon import.

Inventory Source
Inventory Source is another powerful solution for WooCommerce dropshipping. It is quite useful for automating your business. Every supplier supports inventory management, which will enable your store to automatically update your stock levels according to their data feed.
Unlike Wholesale2B, this platform does not serve as a reseller on your behalf.
This means that you will need to sign up for reseller accounts directly with each supplier you plan to source from.
Some suppliers also support order automation. With this feature, you can have Inventory Source automatically place the order from the respective supplier after a customer makes a purchase.
Adding a WooCommerce integration
Inventory Source treats each supplier/ecommerce platform combination as an integration. For example, if you use the same supplier to sell through WooCommerce and Amazon, you would need two integrations.
To add an integration, go to your Inventory Source account and click Add integration from the left-hand menu. Select a supplier and WooCommerce as the sales channel. You can then decide which plan type you need, Inventory Automation or Full Automation.
Again, not every supplier will offer Full (Order) Automation.
Once you complete the sign-up process, you will gain access to the Supplier's complete product data feed including the inventory level for each item.
Activating the API
On the WooCommerce side of things, you will need to make sure that the API is enabled to connect your Inventory Source account.
Go to WooCommerce > Settings > Advanced and then REST API.
Select Add key.

You can then add a description and select a user for the key. You will also need to change the Permissions to Read/Write. This will allow the platform to run automated updates to your inventory. Click Generate API key when you are done.
The next page will show the Consumer key and Consumer secret. Copy these down as you will need to email them to Inventory Source's support team. They will then set up your automation services.

Managing orders
After you set up order management, you will want to place a test order to ensure that everything works properly with your WooCommerce dropshipping. Visit your Woo store and complete an order just like one of your customers would.
Back in your Inventory Source account, you should see the order in your Order Manager.
If you have a Plus plan, orders are imported at 15-minute intervals. If you have a Basic plan, orders are imported every hour. There is a feature called Order Sync that allows you to refresh your orders in real-time. Clicking this button instantly imports any orders scheduled to run during the next sync.
Once you've imported your order, you will likely see a red button that says Resolve. This message will show if there are missing details needed to complete the order. When you place an order for the first time, the shipping mapping is usually undefined. Most suppliers require you to map shipping methods thus causing the error message.
To complete the test order, you will need to select a shipping carrier and method.
The order manager will only show the method supported by the supplier. After you make your selection, you will receive a prompt to save the selection for future orders. Doing so will prevent the error message from appearing going forward.
Other error messages may appear if you are missing essential information such as parts of the delivery address or the customer's phone number. If you experience any errors, you will need to manually correct them and click Update.
This will change the Resolve button to a green button that says Process.
Click Process and the order manager will push the order to the supplier. A few seconds will pass while the process completes. When it's done, the order's status will change from Not Processed to Processed.
As a final step, you should contact your supplier to confirm that your order was received and that the information is correct. When the supplier provides the tracking details, Inventory Source will import them into the Order Manager and change the status of the order to Shipped.
They will also sync the tracking information back to your WooCommerce store. After you confirm that the automatic order manager is working properly, you can begin bringing customers to your WooCommerce dropshipping site.
Closing thoughts on WooCommerce dropshipping
Now you know how to quickly add a wide range of dropshipping products to your ecommerce store. WooCommerce dropshipping may remove the need to handle logistics yourself, but it is still vital to build a strong brand and promote your products effectively.
Check out our other WooCommerce Wednesdays posts to learn how to create a memorable shopping experience that will keep your customers coming back for more.