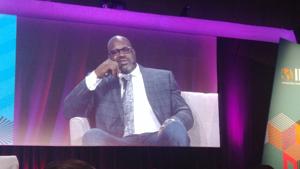 "I let the organizers know my ass is not this big … you get the normal-sized chair and I get the Charles Barkley-sized chair," said Shaquille O'Neal today as he settled onto a sofa opposite Charlie Chase, incoming chair of the International Franchise Association.
His signature humor on full display, O'Neal quickly launched into a story about one of the sandwiches on the menu at Big Chicken, the fast-casual fried chicken restaurant concept he started franchising last year. Crispy chicken topped with mac and cheese, fried onions and roasted garlic barbecue aioli, it's called the Charles Barkley because "it's the sloppiest sandwich you could ever make," quipped O'Neal. The two NBA Hall of Famers have a longstanding love-hate relationship and are known for trading jabs, usually during TNT's "Inside the NBA."
"I think it's fair to say that I hate Charles Barkley. In real life," continued O'Neal to roars of laughter. "If he was here right now, I'd punch him right in the face."
"And would he take it or would he flop?" asked Chase.
"Oh, he'd flop," deadpanned O'Neal. "He's a big flopper."
Known of course as a 15-time NBA All-Star who now invests in numerous companies and endorses products from pain-relief patches to printer ink, O'Neal has also made a name for himself in franchising, at one point owning 155 Five Guys restaurants, several 24 Hour Fitness locations and 17 Auntie Anne's stores. He's now a Krispy Kreme franchisee, a Papa John's board member and investor in nine locations, and the founder and largest shareholder of Big Chicken.
Raised by a drill sergeant dad who "was never satisfied and told me never to be satisfied," O'Neal said he didn't want to be part of the 60 percent of NBA players who go broke after leaving the league. He has a savvy business team around him and said he's always looking for people who are smarter than him.
"What I learned from the basketball world that applies to the business world is you can't win a championship by yourself," he said.
He has to like a product or use it himself before he'll promote it, and in the case of Big Chicken he wanted to create a concept based on the type of food he eats. "I don't eat tacos. And I rarely eat steak. I love chicken. I've been eating chicken all my life," he said. Growing up, he would grab a chicken wing, "wrap a piece of bread around it, throw some ketchup on it and you've got a sandwich."
Two Big Chicken restaurants are open, in Las Vegas and Glendale, California, plus spots inside Climate Pledge Arena in Seattle and UBS Arena in New York. Big Chicken also has two units on Carnival cruise ships and a deal with Ghost Kitchens Brands, which so far has one location inside a Walmart in Rochester, New York. More than 150 locations are under contract through multi-unit agreements with 10 franchise groups.   
Coming out of the COVID-19 pandemic, O'Neal said what makes the restaurant industry great is its ability to adjust and persevere.
"I wish you all well," O'Neal said in closing, "unless you're in the chicken business."
Check out the April issue of Franchise Times for more from an exclusive interview with O'Neal.