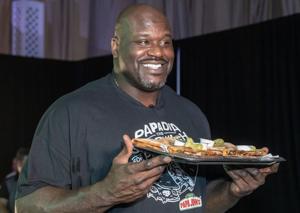 Shaquille O'Neal came up with the Shaq-a-Roni pizza for Papa John's, he told Franchise Times in a recent interview, and the limited-time oversized offering will be back as part of a new endorsement deal the NBA legend signed with the company.  
The new three-year agreement with Papa John's, which is worth more than $11 million in cash and stock, according to a federal securities filing, replaces O'Neal's previous endorsement deal, which ran from March 2019 to March 2022. Under the new terms, O'Neal will get $5.625 million in cash payments over the three years—that's an increase from the $4.125 million Papa John's paid as part of the first agreement.
The success of the Shaq-a-Roni pizza could also mean O'Neal earns more. Papa John's agreed to pay a royalty payment of 20 cents per co-branded pizza sold if that amount exceeds the contractual cash payment in a given year. A dollar from every pizza sold—more than $7 million during the two years Papa John's has offered the LTO—supports the Papa John's Foundation for Building Community, something O'Neal said aligns with his personal long-term goals of positive community impact.
O'Neal was also granted 55,898 in restricted stock, which will gradually vest over a three-year period. That stock is worth $5.6 million based on the April 15 trading price.
Papa John's, meanwhile gets the right and license to use O'Neal's "name, nickname, initials, autograph, voice, video or film portrayals, photograph, likeness and certain other intellectual property rights" in its advertising and promotions, and O'Neal will provide brand ambassador services related to appearances, social media and public relations.
Related: Why Shaquille O'Neal Is Putting His Star Power Behind Big Chicken
O'Neal's relationship with Papa John's began in 2019 when the company asked him to join its board of directors. The company was trying to recover from a year of turmoil following founder and former Chairman John Schnatter's resignation after it was reported he used the N-word during a May 2018 conference call.
Starboard Value CEO Jeff Smith, who O'Neal said is a friend, joined the board in February 2019 and wanted him to be involved in the brand's new direction. "It was a simple conversation. I'm not going to risk my integrity and brand if that man is still involved," said O'Neal, meaning Schnatter. "And he wasn't."
Still, O'Neal said he "took a lot of heat for that from my community," because people thought "I'm just taking the money." In addition to joining the board, he took an ownership stake in nine Atlanta-area restaurants and signed that original endorsement agreement.
"They had the right to be upset," he continued, but his message has been, "I'm part of the new management that's bringing it back."
A big change at Papa John's over the past two years "has been to focus our marketing on our delicious, high-quality food, instead of on any single person," said Papa John's CEO Rob Lynch in a February email interview with Franchise Times. "As he has said many times, Shaquille believes deeply in Papa John's values and products. We have leveraged Shaquille's authentic voice and ability to connect with people to create brand love for Papa Johns, and there's no question he has helped accelerated the shift in people's perception of the brand."
Known of course as a 15-time NBA All-Star and four-time champion who now invests in numerous companies and whose product endorsements have become equally legendary, O'Neal has made a name for himself in franchising, at one point owning 155 Five Guys restaurants, several 24 Hour Fitness locations and 17 Auntie Anne's stores. He's now a Krispy Kreme franchisee and the founder and largest shareholder of Big Chicken.