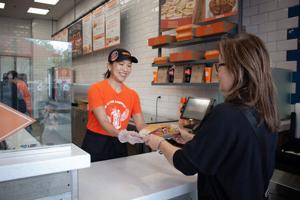 With a new look, new technology and deeper efficiencies, Togo's is looking to expand in non-traditional spots in a big way.
For more than 50 years, Togo's has thrived as a mostly to-go sandwich concept. The pandemic only reinforced that, said VP of Franchise Sales and Real Estate John Dyer.
"What we've learned through the pandemic, dine-in isn't as critical as maybe it once was. We can work within a smaller footprint than we operated before and so as we started to look at the model going forward, we started to get some more organic interest," said Dyer.
That interest came from c-store operators especially. They liked the look of the 2019 3.0 update, with all the technology from fully integrated third-party delivery to self-order kiosks.
"We started to get a number of inquiries from convenience and fuel operators that had either excess space in an existing c-store attached to a fuel station that they thought they could make better use of," said Dyer. "And they wanted to be able to offer a fresher, higher-quality on-premises prepared product. With Togo's being a strong regional player on the West Coast, we started to see a great deal of interest from fuel and convenience operators."
They also liked the potential of a well-known regional brand compared to a ubiquitous and highly saturated national brand.
"A number of those folks have gravitated away and are looking for a stronger regional brand with a good reputation than the 500-pound gorilla," said Dyer.
He said the company has always had a handful of c-store locations and non-traditional outlets, so there weren't a lot of tweaks. The real work was getting the operation as small as possible.
The newest design can fit in an area of 400 to 500 square feet—about half the size of the already small, traditional 1,000-square-foot Togo's location. That was possible by relying on a lot of existing infrastructure in a c-store or fuel station. There's already an area to prep other prepared foods like the typical hot dogs and taquitos, and there's already refrigeration.
To right-size the operation to match generally lower traffic than a traditional outlet, it was just trimming some fat.
"It was squeezing the sandwich line to reduce the side of the refrigeration units and in some cases relocating the hot holding of some of our hot sandwich items like our hot pastrami, which is the No. 1 seller at Togo's. The steam tables that hold our hot meats and soups were moved behind the speed line to make the model work in a smaller format. So it was small tweaks like that," said Dryer. "The volume expectation in a c-store, in many cases, is not at the same as a full location. So, you don't need a second set of pastrami or any of our proteins."
The trimming and the synergies with existing c-store infrastructure reduced the cost of the buildout. Dyer said he's aiming for a two- or three-year return on investment.
One of the 3.0 non-traditional locations is open, but Dyer said the pipeline is growing. Three, maybe four will open this year. He said at this point, he's searching especially for sophisticated c-store operators who can wrap their heads around the complexity of adding a prepared-food concept to their location.