If you thought Windfall, Netflix's original film was going to be a lighthearted comedy, you weren't alone.
Starring Emily in Paris' Lilly Collins, Breaking Bad actor Jesse Plemons, and How I Met Your Mother funny man Jason Segel, the Netflix original had all the markings of a fun, star-led comedy.
But that's not what director Charlie McDowell had in mind. In fact, the filmmaker — who's also Lilly Collins' husband — created a home-invasion thriller that hints at being imprisoned in your own
space, reflective of what we've all been going through in a pandemic.
McDowell explains: "We didn't want to make a "pandemic movie," but we wanted to make something that captured the feeling of this moment and being trapped and how, even when it's a beautiful space, we start to break down and go crazy."
The premise of the movie is simple: A man breaks into a tech billionaire's empty vacation home, but things go sideways when the arrogant mogul and his wife arrive for a last-minute getaway.
Beyond that, the movie evolves into a complex chamber play of sorts that's both an homage to Alfred Hitchcock and a scathing commentary about the Mark Zuckerbergs of the world.
But we're not here to talk about the cinematic merits of Charlie McDowell's latest project.
Instead, we'll do what we do best: track down the house where Windfall takes place and figure out what the filming location was for the streaming giant's latest psychological thriller. Luckily, the movie's director made our work a little easier.
The story of 'Windfall' was created around the house – and shot entirely on location
Windfall director Charlie McDowell — who's written and directed quite a few notable works including The One I Love (2014) and The Discovery (2017) — opened up about his choice of location for his latest project.
And apparently, the house came first, and the movie was later created to fit the location.
"During the pandemic, me and a few friends started thinking. "How do we continue to be creative?" And we wrote the film to fit that specific house. I made The One I Love, the same way, reverse engineering a story to fit a specific space. We knew we could shoot at this property, but we didn't have a story yet, so we let the space dictate who inhabited it and where the story would go."

Charlie McDowell
It then only makes sense that he picked a location he was intimately familiar with: Ojai, California.
"The house is up in Ojai, California where I grew up and it was actually about a mile away from where I shot my first film, The One I Love."
The small city of Ojai is set in Ventura County, California, northwest of Los Angeles, in an idyllic valley surrounded by the Topatopa Mountains.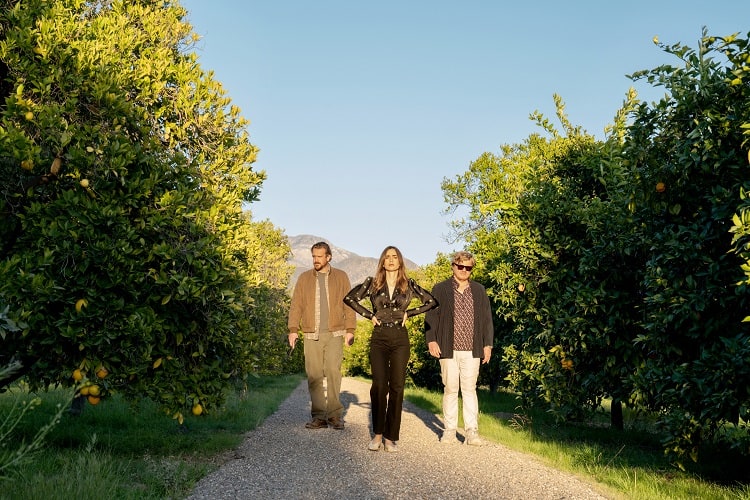 With a village-like center dotted with art galleries and New Age shops and bordered by the Los Padres National Forest to the north, Ojai is a popular vacation destination for people who want to get in touch with nature through scenic trails, breathtaking views, horseback riding and outdoor meditation.
Despite its small size — Ojai has less than 8,000 inhabitants — the small Californian city has been a very popular filming location, both recently and in years past.
Some of the most famous movies filmed in Ojai are The Disaster Artist (2017), Easy A (2010), The Ugly Truth (2009), and Traffik (2018). The 1915 classic movie, The Birth of a Nation was also filmed here.
Now, as for the property itself, we didn't manage to pinpoint an address (despite combing every single active listing and vacation rental in the area). But what we do know is that every single scene in the movie was filmed in the house.
"Every single space you see is somewhere on the property. When we went through the gates on day one, we didn't leave until we wrapped the film. We literally shot the whole movie behind those gates."

Windfall director Charlie McDowell
More stories you might like
Unveiling the Mystery Behind the Sprawling Thrombey Mansion From Knives Out
John Wick's House is Real – And Just as Complex as Our Favorite Badass Character
Is it Real? The Futuristic, Secluded House in the Movie 'Ex Machina'
'Only Murders In The Building': Is the Arconia Apartment Complex Real?