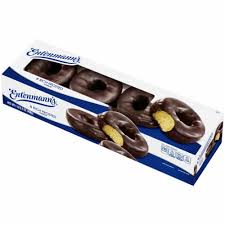 Yesterday Charles Entenmann died. He was 92. He was an incredible entrepreneur who understood the importance of a consistent daily treat.
Entenmanns products were a staple growing up. There was always the white box of one of the treats sitting on the counter. And being able to peer into the box without opening it was genius. The visual of that treat called out my name. Treat yourself.
It is a toss-up on my favorites. The donuts are up there. There are powdered sugar and chocolate dip. We were more of a chocolate dip family.  On occasion, we would have the powdered sugar, but it was a general letdown when I would peer in the box.
Those donuts have just a slight hardness to the chocolate coating.  Once you bite in, the donut has just enough texture that pairs well with dipping in milk.
The other fave was the flat round coffee cake with the hole in the center.  I still remember coming home extremely stoned one night in high school and diving in. I decided to pick off the icing and leave the cake. Not as fattening?  God knows. My Mom was not amused.
I haven't had an Entenmanns treat in years. It was perfect suburban treats at a time when bakeries were not in abundance. I might have to go out today and buy a box of those chocolate-covered donuts.  I will swing by my brothers' house and have a little nosh.