DEFICITS EXPLODING, INFLATION UPTICKING, CRYPTOCURRENCIES LOSE THEIR LUSTER, WHILE GOLD RESUMES ITS UPWARD RUN
As far as the debt is concerned, under Obama the debt went from $10.6 trillion at 1/20/09 to $19.9 trillion at 1/20/2017, an increase of $9.3 trillion over EIGHT YEARS. The debt under Trump increased to $27.8 trillion at 1/31/21, an increase of $7.9 trillion over FOUR YEARS.
Don't believe anything you hear and very little of what you read!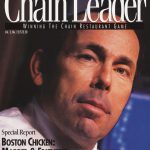 By Roger Lipton
I cannot resist commenting on, and correcting the latest version of revisionist economic history.
Just yesterday Maria Bartiromo was interviewing Peter Navarro, President Donald Trump's Director of Trade and Manufacturing and a frequent economic spokesperson. After predictably predicting a weak stock market, burdened by the poor policies of President Biden, his description of the last ten years went like this: "Under President Obama, coming out of the 08-09 crash, the GDP grew by a meager 2%, and the debt doubled. Under Donald Trump, we grew at 3% and the economy was roaring before the pandemic hit."
Not quite:
Under President Obama, the GDP grew by an average of 1.6%, held down by a negative 2.5% in '09, coming out of the crash. Excluding '09, GDP grew at an average of 2.2% over seven years.
Trump's four years went +2.3% in '17, +3% in '18, +2.2% in '19 and -3.7% in pandemically driven 2020. Excluding the last year, out of Trump's control, just as Obama's first year, Trump's economy grew at an average of 2.5%.
So: A reasonably fair comparison would be that Trump's economy, buttressed by lower taxes, a trillion dollars of overseas corporate capital repatriated, less legislative burden, and a friendlier business climate, grew three tenths of one percent faster than Obama's. If one wants to include the first year under Obama and the last under Trump, under control of neither, the average would be 0.95% under Trump and 1.6% under Obama.
As far as the debt is concerned, under Obama the debt went from $10.6 trillion at 1/20/09 to $19.9 trillion at 1/20/2017, an increase of $9.3 trillion over EIGHT YEARS. The debt under Trump increased to $27.8 trillion at 1/31/21, an increase of $7.9 trillion over FOUR YEARS.
Don't believe anything you hear and very little of what you read!
With that off my chest, the fiscal/monetary chickens are coming home to roost. The factors that we have been discussing for years are becoming too obvious for the financial markets and policy makers to ignore.
The table just below shows the monthly deficit numbers. For the month ending April, the deficit was "only" $226B, down from the explosion of $738B in the first full month of the pandemic last year. Still, we are running 30% ahead of a year ago, which finished in a $3.1 trillion hole, and there is huge spending ahead of us this year. With the trillions that are being thrown around, it seems likely that the deficit for the current year will be over $4 trillion. Keep in mind that our Federal Reserve is buying the majority of the debt that we are issuing to fund this deficit, so we are literally "monetizing" the debt by paying for the deficit with freshly printed Dollars. It is in this context that we have suggested that there is no need to raise taxes on anyone, rich or poor. None of it will supply more than a few hundred billion dollars per year, and there is much less aggravation for everyone if one of Jerome Powell's hundreds of PHDs pushes a computer button and produces the US version of a digital currency. Of course, inflation will be the cruelest tax, especially on the middle and lower class citizen, but they will likely never understand the cause.
Click to enlarge: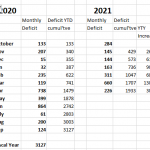 Inflation in consumer goods, rather than the asset inflation we have seen in the last ten years, is finally rearing its beautiful (as far as the Federal Reserve is concerned) head. Post pandemic demand, along with looser purse strings as pandemic relief checks are distributed, is replacing the pandemic induced reduction of demand that has suppressed the economy over the last year. As we wrote last month, some very bright economists are agreeing with Jerome Powell that inflationary indications are "anchored" and "transitory", but we believe transitory may last longer and not so well anchored as expected. The last twelve months of the CPI are now above 4%, and the CPI is widely considered to be understating the inflationary facts of life.
We consider that there has been an undeniable bubble in all kinds of assets, from Tesla to Bitcoin, to collectible homes worth a hundred million dollars to crypto-art and lots of individual stocks that trade for 50x sales instead of a more modest multiple of earnings or cash flow. Investors of all stripes are reaching desperately for a "return", as evidenced by the historically low yield spread between high yield debt and US Treasury securities, as well as the asset classes referred to above. As we write this, a number of these upside distortions are in the process of being corrected. Tesla is down from over $900 to under $600. Bitcoin is $43k, down from $64k three weeks ago, the bloom is coming off the SPAC rose, and GameStop is down well over 50% from its ridiculous high. However, the process has just begun and will no doubt play out over a number of years.
Gold and gold mining stocks seem to have consolidated adequately since last August, when interest rates went modestly higher, and have just now established new bullish chart patterns. Negative "real interest rates", subtracting the inflation rate from the yield on short term treasuries, has a strong correlation with the price of gold. The more negative the "real" interest rate, the more attractive is gold bullion, with no dividend or interest. Almost to the day, last August, when interest rates moved higher, reducing the degree of negativity, the gold price started drifting lower. Real treasury rates never turned positive, but the smaller degree of negativity reduced the urgency for ownership of gold. While interest rates have not gone back down to levels of nine months ago, inflation has picked up substantially, so short term treasuries yield several points less than the 4.2% trailing twelve month inflation rate and gold therefore protects purchasing power very well without paying interest or a dividend. The result is that gold bullion, as well as gold mining stocks have now broken out above their 200 day moving average price lines, so technicians will reprogram their algorithmically driven computers. While gold bullion is still down a percent or two for the year, gold mining stocks are positive for the year and have never been fundamentally cheaper.
It continues to be our conviction that gold mining stocks, in particular, are the single best place to protect one's purchasing power over the long term, and our investment partnership is invested accordingly. Since there seems to be an increasing interest in this subject, in very quick summation:  I am personally the largest Limited Partner, by far, as well as the Managing General Partner of RHL Associates LP, as I have been for the 28 year life of the Partnership. The minimum investment is $500k and the fee structure is "1 and 10". Funds can be added on the first of any month and withdrawn at the end of any quarter with 30 days written notice. We remain open to new investors, keep our investors apprised on a monthly basis as to our performance, and can be contacted through this site or by email at [email protected].
============================
About Roger Lipton
Roger is an investment professional with over 4 decades of experience specializing in chain restaurants and retailers, as well as macro-economic and monetary developments. After earning a BSME from R.P.I. and MBA from Harvard, and working as an auditor with Price, Waterhouse, he began following the restaurant industry as well as the gold mining industry. While he originally followed companies such as Church's Fried Chicken, Morrison's Cafeterias and others, over the years he invested in companies such as Panera Bread and shorted companies such as Boston Chicken (as described in Chain Leader Magazine to the left) .
He also invested in gold mining stocks and studied the work of Harry Browne, the world famous author and economist, who predicted the 2000% move in the price of gold in the 1970s. In this regard, Roger has republished the world famous first book of Harry Browne, and offers it free with each subscription to this website.
In the late 1970s, Roger left Wall Street to build and operate a chain of 15 Arthur Treacher's Fish & Chips stores in Canada. In 1980 he returned to New York, and for the next 13 years worked at Ladenburg, Thalmann & Co., Inc. where he managed the Lipton Research Division, specializing (naturally) in the restaurant industry. While at Ladenburg he sponsored an annual Restaurant Conference for investment professionals, featuring as keynote speakers friends such as Norman Brinker (the "Babe Ruth" of casual dining) , Dave Thomas (Wendy's) , Jim Collins (Sizzler & KFC), Jim Patterson (Long John Silver's), Allan Karp (KarpReilly) and Ted Levitt (legendary Harvard Business School marketing professor, and author). Roger formed his own firm, Lipton Financial Services, Inc. in 1993, to invest in restaurant and retail companies, as well as provide investment banking services. Within the restaurant industry he currently serves on the Board(s) of Directors of both publicly held, as well as a private equity backed casual dining chains. He also serves on the Board of a charitable foundation affiliated with Israel's Technion Institute.
The Bottom Line: Roger Lipton is uniquely equipped as an investor, investment banker, board member and advisor, especially related to the restaurant, franchising, and retail industries. He has advised institutional investors, underwritten public offerings, counseled on merger transactions, served on Board(s) of Directors, public and private, been retained as an expert witness, conducted valuation studies and personally managed a successful investment partnership, all specializing in restaurants/retail. He has studied great success stories over the last 40 years, from McDonalds to Shake Shack. Even more important he has watched scores of companies stumble and sometimes fail. It is this insight that Roger brings to this website.