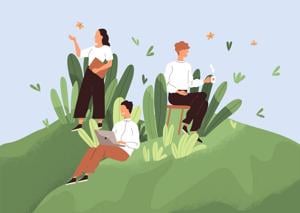 Every 25 to 30 years, something dramatically changes the way we work, from the Industrial and Digital Revolutions to COVID-19, says Seth Mattison during the closing general session of the International Franchise Association Convention. Mattison is founder and CEO of FutureSight Labs, a research institute that partners with psychologists, socialists and data scientists to help prepare brands and leadership teams for the future.
Eighty-eight percent of people redefined what success looked like for them after the pandemic hit, according to a study FutureSight conducted. The Great Resignation was driven by many entry-level workers and executives alike reevaluating their values and making life changes based on those newly-defined priorities, he said.  
"So many leaders were saying people were quitting because of government assistance, that they were paying people to sit on the sidelines, and they'll get their butts back to work" when the government assistance runs out—but that's not what happened, Mattison noted.
"At some point, we have to take some self-reflection as leaders and see something else is happening. It's not about people not wanting to come back to work, it's claiming a new definition of what success looks like in their life," he continued. "If someone walks into your office and leaves, and it's a surprise to you, you missed it."
Mattison then briefly interviewed Dave Mortensen, president and co-founder of Self Esteem Brands, which owns Anytime Fitness, The Bar Method, Basecamp Fitness and Waxing the City. Mortensen noted that Anytime Fitness is on the cusp of revamping its app to work as a digital key fob instead of the brand's physical key that lets members into its gyms 24/7.
Steve Hockett, CEO of Great Clips, then joined Mattison on stage and told the audience how the haircut franchise with 4,500 franchised salons is down 7,500 stylists from 2019 to 2021, which equates to about two stylists short per salon. The brand has invested in digital recruiting resources and is trying to help franchisees build a brand that resonates with the modern stylist. "The reality is, it's hard to figure out where they've all gone," Hockett said.
Since switching to training stylists virtually during COVID-19, Great Clips is closing down its 65 training centers and will reapply that capital to investing in a long-term asset for better training capabilities, such as better video production. "Amazon can't deliver a haircut yet," Hockett added.  
Meanwhile, home services franchisor Authority Brands is implementing a "what if" system feature across its eight franchise brands, which will allow franchisees to input key performance indicators for individual locations and forecast future performance.
"If you keep going what you're doing, where will you be in six months, in three years? And then, what if I change something, increase pricing or get better at customer acquisition and retention? You can show somebody, if you make these minor changes, next year you'll make an extra $100,000. It's powerful," said Rob Weddle, Authority Brands CEO. "It's good to see the iceberg before you hit it."
The IFA Convention concluded on Tuesday, March 1, at the San Diego Convention Center.