Why don't you join us and open a Jefferson's?
Own the place you love to be.
$1.6M Average Unit Volume for the top 50% of stores in 2020
Industry low franchise fee at $20k
Industry low royalty fee at 4%
Ongoing operational support
Ease of operation
Lower break even
Low cost of entry
Brand recognition
Cheers to 30 Years of Jefferson's! Here's how it all began…
In the spring of 1990, after hundreds of classes and a lot of beer, two men graduated from a local university. One man had an extraordinary craving for sports, the other craved spicy food, but they both loved beer.
Realizing they spent a combined 12 years earning degrees that were not serving them, they decided to open a place to serve both of their cravings. 
As they moved forward, the men faced challenges in finding financing, employees, equipment and a building. Finally, after selling all their baseball cards for financing, and begging a local person to let them use a building, all of the red tape the men faced no longer mattered.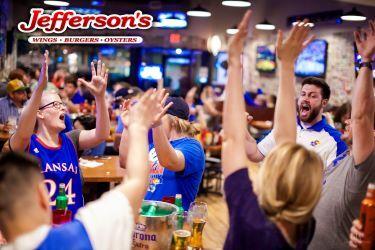 30 years ago they opened the doors to the first Jefferson's in Jacksonville, Alabama, serving hot wings and cold beer. 30 years and 30 restaurants later, the hairstyles might have changed, but our wings are still hot, beers are still cold, and we still love serving our customers! Thank you to everyone who has supported us through the decades at any of our restaurants! Cheers to 30 years and 30 more! 
Today, we have some of the same stories coming to life with our new franchise locations. More stories of two men, partnering to open Jefferson's restaurants following a few years in the corporate world. Many of them leave those full-time jobs, some of them keep those jobs and employ great general managers. 
Jefferson's projects to have at least 34 restaurants and counting in Alabama, Georgia, Tennessee, Kansas and Missouri before the end of 2022.
Franchise with a brand that doesn't feel like a franchise
As we've grown, we've made sure to not lose who we are. We haven't always been a franchise and we hold to our roots. You can go into any of our restaurants and you'll see the infamous colored dollar bills hanging all over the wall. You'll get the same great food and service no matter what state you're in and you'll get the feeling that this is a local, family-friendly, sports-themed chicken wing joint—a great one at that. Whatever community we are in, we fit. 
Our mission is to serve the freshest, highest quality food we can offer to the communities we are lucky to be a part of in an atmosphere that makes everyone feel at home, whether they're a large family, a sports enthusiast or a college student looking for some chicken wings. We are committed to finding franchisees who share these values, are ready to work hard—with us by their side—and are ready to have a little fun along the way.
Building on the foundation of fresh, delicious food, the rest of our menu follows suit. Our famous wings, fried pickles, burgers, sandwiches, salads and hand-breaded chicken tenders are all made fresh for you everyday. Add some drinks and our friendly waitstaff to the mix, and you've got yourself an experience that can only be found at Jefferson's!
Come join us and experience the difference today!
Janene Krueger, Director of Franchise Development
Find out more about franchising with Jefferson's: https://jeffersonsfranchise.com/
This sponsored content was provided by Jefferson's.