Jason Hughes and business partner Ron Whited are looking to get a piece of the anti-aging action, signing a 10-unit agreement to open Serotonin Centers in California.
Hormone restoration therapies, weight control services and aesthetic treatments such as dermal fillers and CoolSculpting are increasingly in demand, with market research firm IMARC Group forecasting the global anti-aging market to reach $98.6 billion by 2028. Serotonin Centers, said Hughes, is the only concept putting all these services and more into the same model.
"It encompasses all of the aspects of the anti-aging promise," said Hughes of Windermere, Florida-based Serotonin Centers, which also offers immunity and recovery services such as IV and red light therapies. "People are really seeking to look younger, feel younger … and these are all the options out there that people are researching and looking for."
A former Sky Zone franchisee who with Whited developed and franchised family entertainment concept Glowzone, Hughes said it was the recognition of his own hormone issues that led him to research different brands in the segment. "I was struggling a little bit with my own hormone health," he said, and learned Whited was, too. "I thought, if we are, a lot of people must be but they're just not talking about it."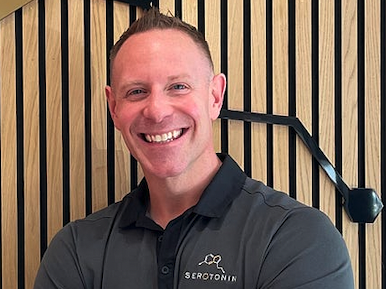 Retro Fitness founder Eric Casaburi started Serotonin Centers in 2021 with the first location in Windermere, and franchisees Dr. Lisa Granado and Danielle D'Alessio recently opened a center in Colts Neck, New Jersey, as part of a five-unit agreement. The brand signed additional multi-unit deals in several states including Florida, Tennessee and Virginia.
Casaburi touted Serotonin Centers as "the nation's first human longevity franchise" with the aim to "slow down the human biological clock," he told Franchise Times following the franchise launch last year.
"We've been a crusader for health and wellness, and we feel we can control a part of our destiny through good practices when we can give good tools for people," Casaburi said. He noted the American healthcare system "is a little bit broken right now," and his concept wants to help correct it by educating consumers about their blood work and hormone levels and "giving those controls back to you."
Though Serotonin Centers has just two locations open, Hughes is confident its services and membership model will resonate with consumers in Orange County and the Los Angeles metro. "It's a great market. People are focused on fitness, their general health, and of course their physical appearance, that aesthetic piece," he said.
Casaburi's experience building Retro Fitness—he founded it in 2006 and grew it to 156 gyms before leaving his CEO role in 2019—also helped boost Hughes' confidence level to enter an emerging brand. "He's established a good team and that gives me the comfort to tackle this," Hughes said.
Related: Why New-age Wellness Franchises Are Flying High
The anti-aging market in 2022 reached $67 billion, noted Hughes, and he believes the projected growth will materialize: "I don't think this is anywhere near the tip of the iceberg as far as where we're going as a society to take control of our health and well-being."
The cost to open a Serotonin Centers business ranges from $526,999 to $1,261,999, and a typical location is between 2,000 and 3,000 square feet.