At the latest CommerceNow conference, which took place in June, attendees were presented with an extensive and incredibly insightful lineup of virtual sessions led by top-tier eCommerce industry experts.
We also delved into the insights of three industry thought leaders: Michele Barbagli, CEO & Co-founder at Sintra Digital Business, on omnichannel retail, Jasmin Guthman, Head of Corporate Communication at Contentstack, on overcoming digital complexity, and Robert Skrob, President and Owner of Membership Services Inc., on the intricacies of growing a subscription business.
Their shared insights provide a roadmap to future-proofing your business strategy, enhancing customer engagement, and growing your customer base. Let's take them one by one.
Crafting Omnichannel Retail Experiences
Michele began his session with the foundational – getting clear on definitions. When diving into modern business strategies, two terms often come up: multichannel and omnichannel. Both aim to serve customers, but they have different approaches.
Multichannel refers to servicing customers on separate channels; each interaction with the customer is independent of the other.
Omnichannel, on the other hand, links it all together. It ensures that whether a customer shops online or in a physical store, their experience is consistent and connected. A common example is when a customer orders a product online and picks it up at a local store. The entire process is smooth and integrated.
So a key takeaway from Michele is to not fall short of offering customers a seamless shopping experience, no matter where or how they shop.  But that's easier said than done, and many businesses struggle to achieve this because:
Running an ad campaign becomes more complicated when a business adds more channels. Different platforms require different strategies.
Data analysis becomes overwhelming with each added channel and can lead to o skewed or slowed results in the overall strategy.
Ensuring customer satisfaction is a top priority, but keeping up with their ever-changing expectations can be difficult. Businesses falling behind on trends will see a drop in customer retention rates.
With the list of challenges piling up, over half of retailers believe they are not positioned to efficiently manage digital operations in the next 12 months. To combat this, Michele suggests a solution with his 4-pillar Omnichannel Maturity Model.
He advocates that a customer-centric approach is necessary in today's business world. Customers expect convenience, high-quality products, and exceptional customer support from their favorite brands.
The Omnichannel Maturity Model isn't just a theoretical framework but a practical guide any business can follow to meet customers' needs. It's the same one followed by multibrand retailers, famous luxury brands, or scaling D2C startups – the dominant masters company cluster, as Michele puts it.
This model breaks down into four pillars, each essential in creating a comprehensive omnichannel strategy.
1. Strategy: This is the foundation. Before businesses can think about implementing an omnichannel approach, they need a clear roadmap. This involves understanding the market, identifying customer needs, and setting measurable goals. It's about ensuring that every channel, whether online or offline, is aligned with the broader business objectives.
2. Organization: To execute the strategy, businesses must have the proper organizational structure. This means teams working together seamlessly, processes supporting swift and clear communication, and a customer-centric culture. It's about ensuring the entire organization is geared towards the company's shared vision.
3. Data: Data is the fuel for any omnichannel strategy. But it's not just about collecting vast amounts of data; it's about deriving actionable insights from it. Businesses must invest in tools and skills to analyze data, understand customer behavior, and predict future trends. With the right data insights, companies can tailor their offerings to meet and exceed customer expectations.
4. Technology: The right technology is crucial in today's digital age. Businesses need to leverage digital platforms and tools to integrate different channels seamlessly. For instance, choosing the right CRM system can significantly impact your company's performance & efficiency.
By consolidating customer data, tracking key metrics, measuring campaign effectiveness, and automating your marketing – the right set of digital tools can make or break an omnichannel strategy.
To watch Michele's full talk, make sure to visit the dedicated session page.
Overcoming Digital Complexity in Unpredictable Times
Content production is a crucial aspect of any business's digital marketing strategy. Still, it can be quite challenging to keep up with the growing demand. Retailers, in particular, often struggle to produce high-quality content that resonates with their target audience.
Jasmin says it's not surprising, either. Traditional marketing funnels had content served at the top of the funnel, and it primarily stayed there. Driving customers down the funnel was often reserved for other tools or methods.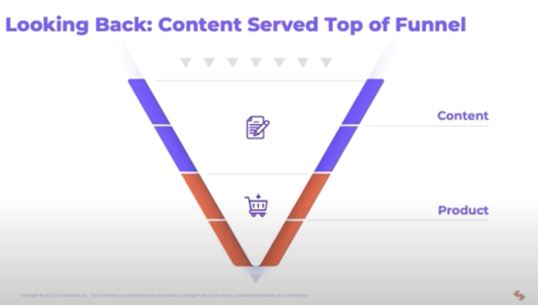 Jasmin explains how today, content is the funnel and another expectation customers have from brands. This fundamental shift is necessary to understand, with 67% of businesses expecting the number of digital assets to increase in the next 12 months.
Changing your approach to campaign management, content planning, and role management will be necessary to stay competitive and deliver exceptional customer experiences.
Add personalization into the mix, and the reason many brands struggle to keep up with content marketing becomes even more apparent – there isn't a clear system in place or the right digital tools, to help streamline operations, making content production and distribution a challenge.
In fact, ⅗ retailers point to content marketing as their biggest struggle. Lack of execution speed and slow release of marketing campaigns are contributing factors to this challenge. Speed is a non-negotiable, and companies that understand this will be the ones to create better, more successful, omnichannel strategies.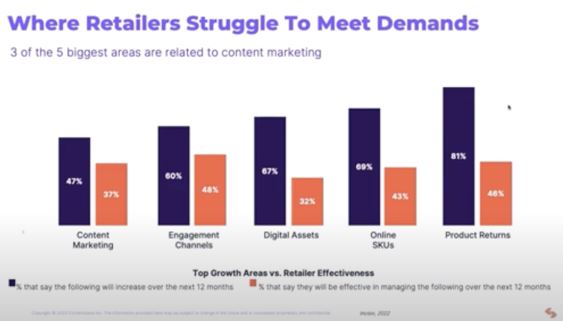 So then, how does a brand increase content production and also enable better customer experiences?
Jasmin Guthman points to the need to fuse content management systems with digital experience platforms. This merging of technology gives businesses the capability to create unique, innovative customer experiences.
Yet with the need to insert more technology into businesses' tech stack to drive growth, 47% of businesses feel like their dependency on IT teams impedes their ability to deliver on online marketing.
To address this, Jasmin proposes a 4-step criteria checklist––the MACH Stack–– that can help businesses create a more useful tech stack to enable better customer experiences.
Using the MACH Stack (Microservices, API-first, Cloud Native, and Headless), EMMA, a $240 million business created a composable tech stack that enabled them to launch new initiatives faster – 39 websites in a year.
By using this architecture, businesses can build a simple, scalable system that lays the foundation for all their ongoing operations, marketing, sales, or HR.
Here's what this system can help create:
The ability to integrate with existing technologies and quickly see a return on investment. This comes with an API-first approach to building out future campaigns, boosting efficiency as all platforms work seamlessly with one another.
A growing business. As your company scales, so do its demands. Leveraging cloud-native SaaS can help simplify and streamline your operations with software that adapts and updates with you, helping you stay on track and organized.
A composable business model. Running headless means your business can maintain and increase its presence across all channels without requiring additional resources. This composable architecture is trending among large companies and fueling their growth.
Separation from IT. Another bonus of running headless is that all your company information is synced in the cloud, reducing the headaches of connecting all the various channels and enabling the IT department more time to focus on other critical tasks.
An easy way to quickly build out and test new customer experiences. Only 17% of brands can launch marketing initiatives in under three weeks. Being faster than your competitors is a significant edge.
To stay ahead of the game and navigate the complex digital landscape, businesses need to embrace the new composable architecture. By doing so, they can ensure their customers have a seamless and enjoyable digital experience.
For more tips from Jasmin, find here her full session.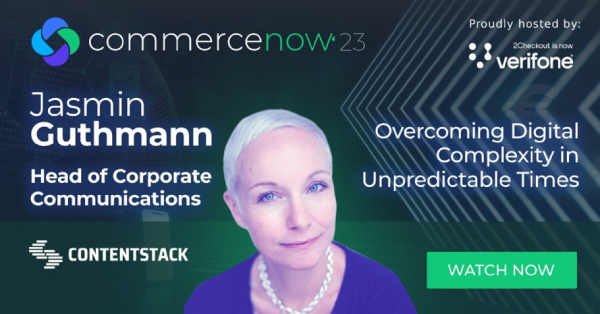 How To Improve Your Member Subscription Retention and Growth
Subscription services have grown immensely in popularity in recent years. From giants like Netflix and Salesforce to emerging SaaS companies, the subscription model is thriving.
But all good things tend to come to an end.
These are challenging times economically, and customers' budgets have shrunk.  For businesses, the question looms: how do you ensure you're not the subscription that gets canceled?
According to Robert Skrob, the key lies in understanding and optimizing every stage of the customer journey. But who spearheads this in an organization? Marketing? Product development? Sales? Often, strategies get muddled with too many cooks in the kitchen.
Robert advocates for a central figure: the Chief Subscription Officer (CSO). This role is pivotal in driving growth in a subscription-based business but is often overlooked.
Why You Need a CSO
The CSO helps bridge the gap between business strategy and customer experience – they're the knot that ties the package together.
They are responsible for:
Keeping the brand to its mission
Ensuring consistent brand identity across all channels
Keeping to the tone and strategy
Maintaining reputation
And handling content distribution.
A CSO is the person accountable for the entire journey of the subscriber.
By leveraging the MACH Architecture proposed by Jasmin, a CSO can create a flexible, scalable, and efficient system that streamlines:
Subscription acquisition & retention strategy
Subscriber data analysis
Subscriber engagement
Product portfolio management
Metrics, KPI and measurement framework
Team management
Robert recommends building out a "single source of truth" dashboard that shows your company's LTV, CAC, payback, churn rates etc. metrics in one place.
A strong CSO would leverage this data to forecast the growth of the business for the next 24 months. For instance, tracking churn rates within different time frames (1 week, 1 month etc) can pinpoint where improvements can be made in the early stages of subscriber retention.
5 Critical Roles of CSO
Exhibits Subscription Focus
Leads subscribers-first organization
Owns the subscriber journey
Drivers subscriber growth
Uses data to accelerate results.
It may seem that a CSO must do it all, but they only need to focus on one thing – providing value to the subscriber.  To do this, however, a CSO must possess a diverse skill set, from strategic thinking in marketing, sales, and leadership to hands-on expertise in digital marketing, media, and analytics. The role is about making data-driven decisions, fostering growth, and ensuring constant value to the subscriber.
Learn more about the Chief Subscription Officer role by watching Robert's entire session here.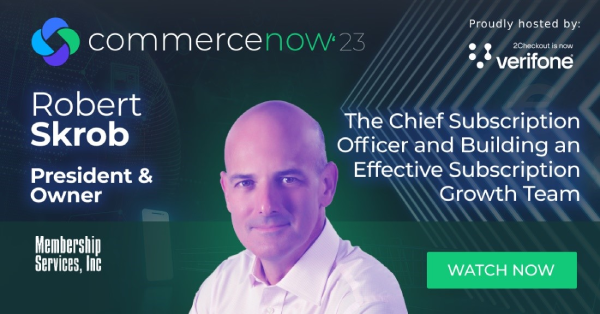 Conclusion: The Road Ahead
The CommerceNow 2023 virtual event offers a wealth of knowledge and insights from top industry leaders. Whether you're an experienced merchant or just starting, this webinar provides valuable strategies for navigating the ever-changing business landscape.
Don't miss out on the opportunity to learn from more experts;  check out the full virtual event now and gain the know-how to succeed in transforming and preparing your business to thrive in this new digital economy.