The world of education has been changed forever by the development of electronic learning, better known as eLearning. It offers incredible flexibility to learn from any location and at any time, all with the help of technology. Although eLearning is not a recent development and has existed for quite some time, its growth significantly accelerated with the onset of the COVID-19 pandemic.
Traditional educational institutions (not to mention corporations and governments) haven't had much of a choice in responding to its advancement – they had to adapt fast as the pandemic continued. eLearning platforms became the heroes of this time period. When you look at the numbers themselves, the growth story is both undeniable and unprecedented. For instance, Coursera's number of registered course-takers was 21 million in 2016 and a whopping 92 million in 2021.
The projection for the future is what is truly impressive, though. According to ResearchAndMarkets, the global eLearning market is set to grow at a 17.5% CAGR and by $147.89 billion. As eLearning slowly creeps into various industries, let's take a look at what goes into the success of this useful tool.
Types of eLearning Solutions and Approaches
Many Ways to Learn
The eLearning industry may be many things, but it's far from a monolith. There are many different ways a person can learn, and it all depends on the learner's preferences. Let's go through some of the major types:
1. eLearning Courses: These would be your usual online courses available on everything from academic topics to career training. They're focused on a single topic and often come from independent educators/brands.
2. Learning Management Systems (LMS): An LMS is a comprehensive platform that lets you manage and attend multiple courses at the same time. Examples of some well-known LMS platforms are Moodle, Udemy, and Coursera.
3. Virtual Learning Environments (VLE): Also called virtual classrooms, these eLearning solutions are more tools than platforms. With software like Microsoft Teams and Zoom, learners can still retain that human element by having more immediate contact with their teacher.
4. Specialized Learning Software: This is a category for very specific and targeted education goals. It could be anything from technical training, language learning or preparation for a test for some kind of certification.
Advancing Models and Tools
As an industry with such a thriving market, eLearning will, of course, be constantly evolving. This has inevitably led to an influx of new tools and features, such as:
Asynchronous Learning: This is a model that offers great flexibility for its users since it allows them to study at whatever pace they want.
Blended Learning: A hybrid model that mixes traditional classroom learning with online education.
Adaptive Learning: This model is called adaptive due to its use of algorithms to help create the learning pathway based on how the learner performs and what they need.
Interactive Learning: Built on the concept that if education can be made more engaging, it can be used more successfully. Think games, media and simulations.
Video-based Learning: This approach uses video as a visual and audio aid for learning, promoting easier memorization and later reproduction of that information.
Collaborative Learning: This method revolves around the use of teamwork, as almost all tasks are completed using group-based problem-solving.
Diverse Audiences
One great thing about eLearning is how it has broadened access to education. It's broken down geographic and economic barriers that were previously a hindrance. The audience for eLearning is rather diverse, as it includes:
Individuals (students, freelancers, specialists): eLearning is being used by everyone from kindergarten to post-graduates.
Corporate Entities: Corporations are using their eLearning platforms and services for onboarding, along with training and skill development.
Government Organizations: Governments have been using eLearning for everything from training civil servants to public education and more.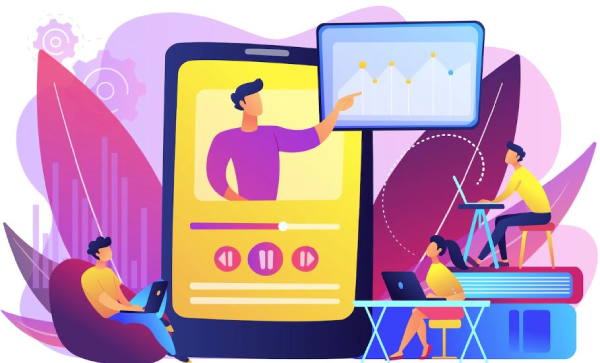 Drivers of Growth in the Segment
Let's take a moment to understand the main drivers behind this massive growth in the eLearning sector:
Technological Advancements
Advancements in technology have played an indispensable role in shaping the landscape of eLearning. The emergence of cloud systems, in particular, has brought about a seismic shift in content storage and sharing methods.
This transformation has empowered learners by liberating educational resources from the constraints of time and geography. As a result, eLearning has evolved into a dynamic, accessible, and flexible avenue for knowledge acquisition. Advancements in mobile devices technology coupled with increasing reach to high-speed internet has also played a role in the growth of this category, as new audiences are now able to book or subscribe to different e-courses, training or lessons.
Increasing Need for Specialized Workforce
The global economy never stays still. In our fast-paced marketplace, certain sectors like technology and finance are in a constant state of flux. That's why having specialized, up-to-date skills has become crucial. Those working in these industries can't afford to rest on their laurels; they must engage in continuous learning.
Constant learning has become completely vital, as it allows seasoned pros to brush up on their knowledge. As industries evolve rapidly, staying informed and adaptable through constant learning has become a linchpin for sustained success.
Flexibility and Convenience
Flexibility might be the most valuable aspect of eLearning. Learners are people with their own schedules and commitments. eLearning transcends these barriers, offering a pathway to education that's accessible and accommodating to diverse circumstances.
This includes individuals balancing demanding jobs, parents caring for their families at home, and learners who might otherwise be restricted by where they live or their financial means.
Cost-effectiveness
Economic considerations are just as important as flexibility for many learners and are, therefore, a huge factor in the growth of the industry. Traditional education is expensive. And it's not getting cheaper. eLearning, on the other hand, is far more budget-friendly, as it doesn't require physical infrastructure, and it can scale rapidly and easily. It can be made available at a fraction of the cost.
The rise in adoption of subscription models and diversification of digital payment methods has also opened routes for new audiences to start taking advantage of eLearning – what once required a larger upfront investment can now be paid in more manageable, recurring flows.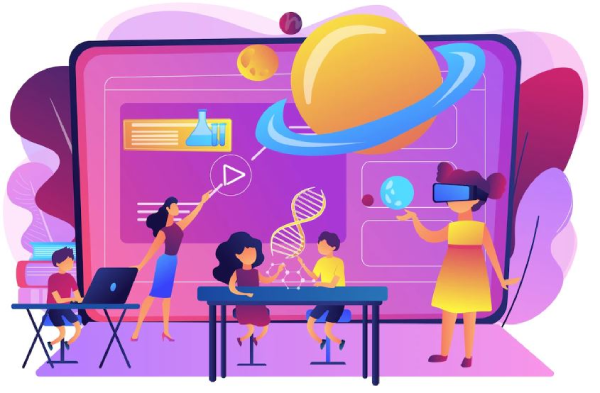 Tactics for Success in the eLearning Market
There is enormous potential in the eLearning market – that much you may know. But there is also enormous competition. In order to truly prosper, you have to stand out. Here are some strategies that can help guide eLearning businesses in the right direction:
Invest in Customer Engagement and Retention
Almost universally, eLearning platforms use a subscription based model. Therefore, assuming you do the same, retaining customers becomes equally as important as acquiring them. You can do so by adding extra features that make the experience more engaging. A good UX goes a long way, so you should think about the needs of your target audience before picking which features to include.
Adopt a gLocal Approach
gLocal strategy means a global yet localized strategy. eLearning usually aims to target a global audience, and so should you, but it's best to incorporate local needs (especially language and culture) into your strategy for better engagement. Adapt your content and marketing strategies for specific regions, while not sacrificing the broader and more global appeal of your service. This allows you to capture the most market share possible while maintaining high engagement based on locality.
Implement Intelligent Customer Acquisition
To acquire a customer in the eLearning space usually means multiple touchpoints. You might need to use online ads, free trials and/or educational webinars to accomplish this. Content marketing, SEO and social media advertisements are often great ways to get leads. Don't be afraid of using big data and analytics to identify the best channels possible to acquire your customers
Leverage the Right Data
You've probably heard the phrase "data is the new oil." Nowadays, it rings truer than ever before. Having the right metrics makes decisions such as picking the subscription model much easier. You can discover users' behaviors and habits, how effective your courses truly are and how you can improve them. Pair this insight with some A/B testing and customer feedback loops, and you can make adjustments that will boost your platform's effectiveness and engagement rates.
Conclusion
The eLearning market is an exciting space filled with opportunities. That said, it has its fair share of challenges as well. Rapid technology growth, changing workforce factors and requirements and growing education needs are fueling the growth in the market and will continue to do so. What determines success in this sector ultimately lies in the strategies used by businesses that create and maintain these platforms.
With strategies like adopting a gLocal approach, using data analytics and focusing on learner retention, eLearning businesses can position themselves for long-term success in a market that shows no signs whatsoever of slowing down.